Press release
UK stands by Syrian refugees says Greening
International Development Secretary Justine Greening marks World Refugee Day 2013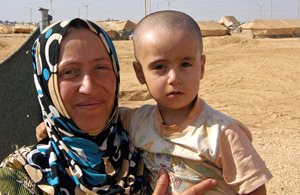 International Development Secretary Justine Greening said:
The UK has a proud history of leadership in responding to conflict and natural disaster. In the last year alone, we have provided vital help for hundreds of thousands of Palestinian, Somali and other refugees from all over the world.
On World Refugee Day the world's eyes turn inevitably to Syria, where ongoing conflict is creating the greatest refugee crisis of recent years. With 200,000 new refugees every month, the impact on Syria's neighbours is also huge.
We have just doubled our funding for Syria making this the UK's largest ever response to a humanitarian disaster, and we have already allocated £50 million of that to support the refugee response in Jordan. Throughout this crisis we have pushed the international community to respond, providing often lifesaving assistance for Syrian refugees as well as those in need still inside Syria.
Prime Minister David Cameron announced at the G8 that the UK would more than double its response to the Syria crisis with £175 million in new funding. The Prime Minister announced £50 million for Jordan's Syrian refugee response from this new funding following his meeting with King Abdullah of Jordan yesterday afternoon.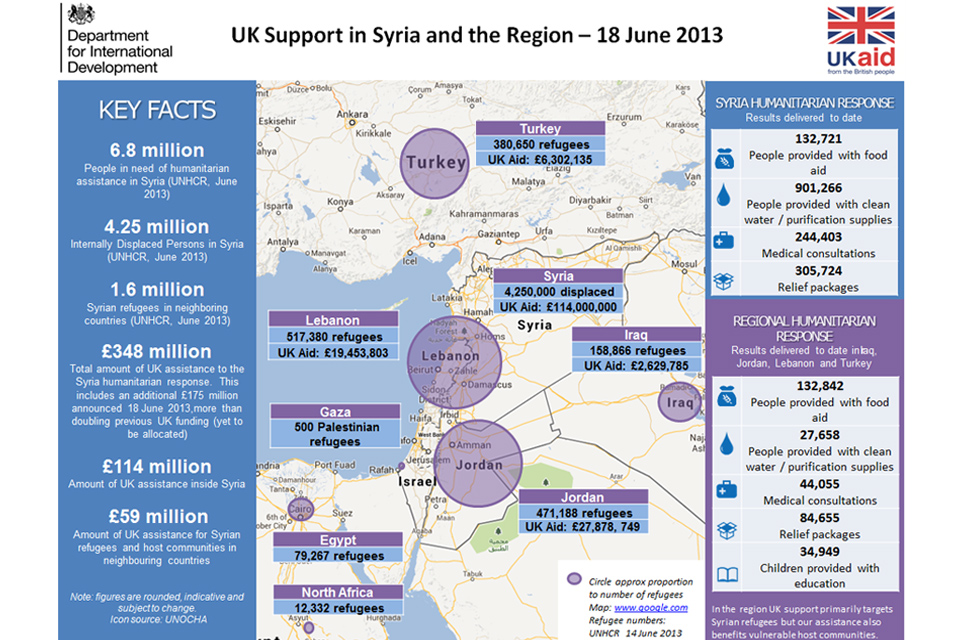 ---
See also
Factsheet: DFID Humanitarian Aid Programme Summary - Syria Response (as of 18 June 2013)
---
Notes to editors
UNHCR, the United Nations refugee agency, has said that more than 45.2 million people were forced to flee their homes last year, an 18-year high. It said that globally, at the end of 2012, there were 15.4 million refugees, 937,000 asylum seekers and 28.8 million people forced out of their homes but who stayed within their nation's borders.

Since January 2013, there have been 200,000 new refugees fleeing Syria every month, seeking refuge in neighbouring countries and North Africa. The most recent estimates are that more than 1.64 million Syrians have now become refugees as a result of the crisis.

The £50 million to help Jordan meet the needs of Syrian refugees is the first allocation from the £175 million in new funding announced at the G8 on Tuesday and will provide lifesaving help and basic services to thousands of refugees in Jordan, including food, clean water, medical assistance and sanitation, as well as providing further support to the Jordanian communities hosting them.

This brings the UK's total commitments to support the refugee response in Jordan to £78 million. UK funding for Syrian refugees in Jordan is already providing food for 120,000 people per month, as well as clean drinking water for over 50,000 refugees. It has also provided clinical care and counselling for 12,000 men, women and children who have experienced severe trauma including sexual violence.

The UK is one of the largest contributors to the UN High Commissioner for Refugees (UNHCR) and the UN Relief and Works Agency for Palestine Refugees (UNRWA), and actively contributes to the work of humanitarian organisations helping to meet the needs and protect the rights of refugees, stateless people and those internally displaced within their own country.
Published 20 June 2013