News story
UK signs up to cyber resilience partnership
The Foreign Secretary has signed the World Economic Forum's new set of principles on cyber resilience on behalf of the UK government.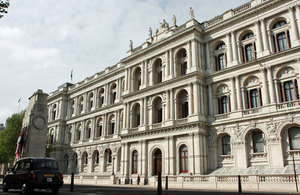 The UK has joined over 70 companies and government bodies across 15 sectors and 25 countries to demonstrate their leadership and commitment to taking a responsible and collective approach to ensuring secure, resilient digital global networks. This step has been taken to enable our global economy to benefit from a digital environment which is safe yet open for all.
On signing the cyber resilience principles, the Foreign Secretary said:
"We hope that signing the WEF principles on cyber resilience will encourage business leaders all over the world to lead the way in creating shared principles for a resilient and thriving internet. The internet has a critical role to play as an engine and facilitator of economic growth. Cyberspace must be secure and reliable so that it is trusted as a medium for doing business but at the same time free and open to evolve and innovate naturally. Governments should support the key role of the private sector in creating a trusted and open place to do business both at home and abroad. The WEF principles will help us all – individuals, companies and governments - in our shared aim to promote a safe and secure digital environment to do business."
In response, the WEF has highlighted the UK government's guidance for industry on meeting cyber security challenges as an excellent example of putting the principles in practice. The Ten Steps to Cyber Security booklet was launched last September to chief executives of a number of the UK's largest companies. It sets out how board members and senior executives should adopt a holistic risk management approach to cyber security in order to safeguard their most valuable assets, such as personal data, online services and intellectual property.
In addition to company guidelines, the UK announced a new Global Cyber Security Capacity Building Centre last October. The Capacity Building Centre will be hosted within the UK's network of Centres of Excellence for Cyber Security. Currently, eight universities have been awarded this status based on their world class research capability in this field.
Francis Maude, Minister for Cyber Security at the Cabinet Office, is participating in a number of events at the WEF's annual meeting in Davos aimed at bringing industry and governments together to tackle the global issue of cyber resilience and security.
Speaking in Davos, the Minister said:
"Cyber security is a shared, global challenge - our companies operate in a global marketplace. The cyber threat knows no geographical boundaries and it matters that those we connect to are secure as well.
"In the UK we have put in place a transformative National Cyber Security Programme which hinges on a real and meaningful partnership with industry. We are very proud to be members in this global initiative. We hope that our guidance for businesses and the Global Capacity Building Centre, which form part of our increasing efforts to make cyberspace a secure and stable environment in which businesses can grow."
Alan Marcus, Senior Director for Information and Communication Technologies at the WEF said:
"We are delighted that Her Majesty's government have demonstrated their leadership in this space through their support of the principles and participation in the initiative. The UK has been a leading voice in the cyber debate in recent years. Cyber resilience is a shared challenge for all parts of society. In 2013, we will continue to drive leadership awareness and understanding, and support multi-stakeholder collaboration across the globe."
Further information
Read more about the WEF Partnering for Cyber Resilience initiative, which was was set up in 2012 in order to promote awareness, understanding and action on cyber resilience and to tackle global cyber risk challenges. For further information on the initiative visit Twitter: #davos #wef #wefcyber, #cyberresilience

The Ten Steps to Cyber Security booklet brings together a range of advice from the Security Services and BIS on cyber security. It provides 10 steps for businesses and clear guidance and advice on how to manage cyber risks. It was launched at a meeting of ministers and chairmen of FTSE 100 companies in September 2012 and has been followed up by a wide range of briefings and seminars to industry groups. BIS is currently producing an SME version of the guidance.

The international Cyber Security Capacity Building Programme was launched by the Foreign Secretary and the Minister for the Cabinet Office at the Budapest Conference on Cyberspace in October 2012. The £2 Million per annum fund will be used to facilitate international capacity building projects as well as funding the new global Centre for Capacity Building which will be based within the UK network of Centres of Excellence in Cyber Security. The Centre, led by specialist researchers and an outreach team, will research cyber security initiatives across the globe to determine where organisations should direct their valuable resources to get the best results in tackling cyber crime and other cyber threats.

The UK's National Cyber Security Programme (NCSP) provides £650 million of funding to underpin the aims and objectives of the UK Cyber Security Strategy launched in November 2011. Go to the Cabinet Office website for further information on the NCSP, the UK Cyber Security Strategy and the progress report on how the UK is meeting the objectives of the strategy.
Published 25 January 2013