UK set to lead the way for smart cities
Government, cities, businesses and universities are joining forces to make sure the UK is leading the global race to develop smarter cities.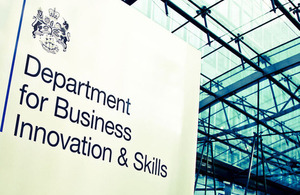 Government, cities, businesses and universities are joining forces to make sure the UK is leading the global race to develop smarter cities. A new forum led by government, will see local authorities and businesses working together to ensure that growth opportunities are not missed in a market estimated to be worth more than $400 billion globally by 2020.
The Smart Cities Forum has met for the first time today (18 December 2013) and will develop plans to support the creation of smarter cities in the UK. Smart cities have the potential for businesses to plan efficient routes to transport goods, allow local authorities to create effective public health services and provide the public with access to real time data so they can plan their daily activities.
The forum is being co-chaired by Universities and Science Minister David Willetts and Cities Minister Greg Clark.
David Willetts said:
There is huge potential for the UK to be the world leader in smart cities. We are well placed to take advantage of up to a $40 billion share of the market place by 2020, so we must make sure we do not miss this opportunity. The new Smart Cities Forum will bring the best minds together on a regular basis to establish a clear plan to exploit the exciting technologies that we have at our disposal.
The Forum is a key part of the Information Economy Strategy. Published earlier this year (2013) the strategy involves government and industry working together to support a digital sector that employs around 1.5 million people in the UK.
Government is already investing in the development of new technologies to support this sector. £50 million is being invested by the Technology Strategy Board in a Future Cities Catapult in London that will support businesses looking to commercialise their products and get them into the market place.
The Technology Strategy Board is also investing £24 million to create a future cities demonstrator in Glasgow. The city will demonstrate how new integrated services across health, transport, energy and public safety can improve the local economy and increase the quality of life. It will also allow UK businesses to test new solutions that can be exported around the globe.
Notes to editors:
1.Case studies of smart cities in the UK can be found using the following links:
Greenwich
https://www.youtube.com/watch?v=-Jq0o608mHg
Birmingham
http://www.youtube.com/watch?v=cHWEFoBU6Gw
2.The full list of forum members is:
Business:
Dr Rick Robinson, IBM
Rod Halstead, Cisco Systems
Volker Buscher, Arup
Charbel Aoun, Schneider Electric
Julie Alexander, Siemens
Graham Colclough, Cap Gemini
Kevin Craven, Balfour Beatty
Steve Lewis, Living PlanIT
Adrian Ulisse, Ethos VO
Local Government:
Mark Kleinman, Greater London Authority
George Black, Glasgow City Council
Tom Riordan, Leeds City Council
Sir Howard Bernstein, Manchester City Council
Nicola Yates, Bristol City Council
Stephen Hughes, Birmingham City Council
David Hill, Milton Keynes Council
Ian Hughes, Local Government Association
Research/Standards:
Sir Alan Wilson, University College London
Professor David Gann, Imperial College London
Professor Rahim Tafazolli, University of Surrey
Professor David Lane, Heriot-Watt University
Greg Clark, Global Cities Advisor to OECD/World Bank
Richard Miller, Technology Strategy Board
Peter Madden, Future Cities Catapult
Scott Steedman, British Standards Institution (BSI)
Clive Hayter, Research Councils UK (RCUK)
Non-Government Organisations:
Other Government Departments:
Sir Mark Walport, Chief Scientific Adviser to HM Government
Ken McCallum, Department for Business, Innovation and Skills (BIS)
Damien Smith, Cabinet Office (CO)
Dr Paul Hollinshead, Department for Energy and Climate Change (DECC)
Dr Miles Elsden, Department for Transport (DfT)
Clare Allcock, Department for Health (DH)
Robert Burles, Department for Culture, Media and Sport (DCMS)
Julian Bowrey, Department for Communities and Local Government (DCLG)
Jonathan Tillson, Department for Environment, Food and Rural Affairs (DE FRA)
Robert Driver, UK Trade and Investment (UKTI)
Steve Unger, Ofcom
3.The government's economic policy objective is to achieve 'strong, sustainable and balanced growth that is more evenly shared across the country and between industries'. It set 4 ambitions in the 'Plan for Growth', published at Budget 2011:
to create the most competitive tax system in the G20
to make the UK the best place in Europe to start, finance and grow a business
to encourage investment and exports as a route to a more balanced economy
to create a more educated workforce that is the most flexible in Europe
Work is underway across government to achieve these ambitions, including progress on more than 250 measures as part of the Growth Review. Developing an Industrial Strategy gives new impetus to this work by providing businesses, investors and the public with more clarity about the long-term direction in which the government wants the economy to travel.
Published 18 December 2013