News story
UK-ROK Creative Industries Forum
On Monday 7 March, The Department for Culture, Media and Sport hosted the second UK - Republic of Korea Creative Industries Forum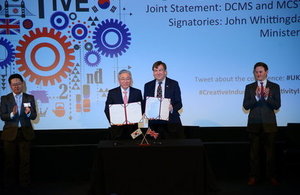 The Secretary of State for Culture, Media and Sport met Korean and British companies in London to help strengthen the UK and Korea's commercial collaboration across the creative industries.
The Culture Secretary recognised Korea's thriving creative sector and strengths in technology, music, visual effects and animation.
He also highlighted the UK's involvement in major projects in Korea, including a Shakespeare education programme and the British Library's work with the National Library of Korea to digitise a range of books, manuscripts and maps.
Culture Secretary John whittingdale said:
"It is wonderful to see how the relationship between the UK and Korea has gone from strength to strength. The first UK-Korea Creative Industries Forum in Seoul in November 2014 laid the foundations for an even stronger industry and economic partnership, one based on shared values and two vibrant creative sectors.
As two leaders in the creative economy, the UK and Korea are well matched to address the creative and innovative challenges of our time. I am sure that all of you at today's Forum will be part of this exciting journey and I look forward to seeing an even greater bilateral collaboration emerge as a result."
Signing of Memoranda of Understanding (MOU) and agreements between UK and Korean companies
John Whittingdale met Minister Kim Jongdeok, Korean Minister of Culture and signed a joint statement. They witnessed the signing of five MOUs:
Hosted at the British Film Institute on London's Southbank the MoU signings were followed by a series of panel discussions and speeches by leading creative leaders from both British and Korean companies.
Speakers included, Amanda Nevill CEO British Film Institute, Peter Truckel Director VFX Hub, Yoon Sang-cheol Head of Animation SK Broadband, Sean Youngsin Park CEO Digital Idea and more.
Minister Kim invited John Whittingdale to Korea for next year's UK-RoK Creative Industries Forum, which will continue to deepen the people to people links and commercial ties in the creative sector. The next forum will take place during a 14-month celebration of British culture in Korea called the 2017-18 UK-Korea season, coordinated by the British Council to enhance the relationship between the two countries and create opportunities in the areas of arts, culture and education.
Published 10 March 2016