News story
UK regions urged to seize opportunity for financial services
UK regions will be supported to capitalise on export and investment opportunities for financial services, ministers across government agreed.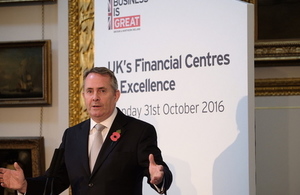 Ministers and business leaders across the country met today (31 October) to discuss the future of financial services in the last of a series of 8 regional events from the south coast to Northern Ireland and Scotland.
The International Trade Secretary, Dr Liam Fox, was joined by ministers from the Treasury, Scotland, Wales and Northern Ireland Office to highlight the huge potential beyond London for the UK's world-leading financial services sector and the opportunities this presents global investors.
International Trade Secretary Dr Liam Fox said:
Financial services are one of the UK's big export success stories, and our global reputation is underpinned by the talent and expertise on offer across the country.

We have a unique opportunity as we open up to new markets, to strengthen this position and grow further. This initiative is key to ensuring that opportunity is available in all our regions as we support our financial centres of excellence.
At the conference, ministers committed to supporting 8 regional 'centres of excellence' to capitalise on opportunities for global investment – following a record year for inward investment to the UK.
Dr Liam Fox highlighted the UK's determination to lead free trade in the world and open up new markets, with the government's new Financial Services Trade and Investment Board supporting UK firms to expand internationally.
Financial services exports
The financial services sector already leads UK exports, namely:
financial and related professional services have the UK's largest export surplus, more than double that of the US, Switzerland or Luxembourg
the sector employs 7% of the country's workforce and constitute 12% of its economy
Miles Celic, Chief Executive of TheCityUK which co-hosted the conference, said:
There are 2.2 million jobs in UK-based financial and related professional services. Two thirds of these are outside the M25, with many of our members employing significant numbers of people in cities and towns across the country.

Britain's regions and nations play a huge role in driving innovation and prosperity, each with very specific clusters of expertise which, when taken together, help to make the UK such an attractive place to invest and do business.
Government support
There was also a panel discussion with the Secretary of State for Northern Ireland, Minister for Scotland and Minister for Wales and Economic Secretary to the Treasury.
The ministers discussed the challenges and opportunities facing the UK's regional financial services hubs. Jeffrey Mountevans the Rt Hon Lord Mayor of London, also addressed the event.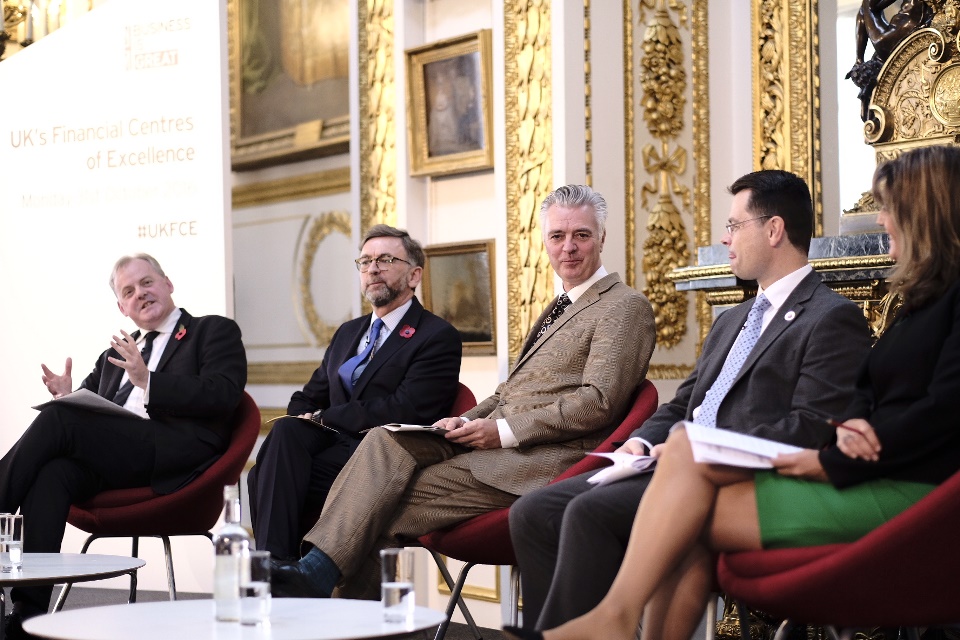 Secretary of State for Northern Ireland, James Brokenshire, said:
Northern Ireland offers a highly-skilled workforce, competitive costs, great infrastructure and excellent support packages and that's why it possesses such an impressive track record of attracting inward investment.

With over 900 foreign investors, Northern Ireland is now second only to London as the top UK destination for inward investment.

So my message today was simple - investing in Northern Ireland makes business sense. 1,200 financial services companies, employing over 33,500 people, have already made that choice. These numbers will continue to grow as we build an economy that works for everyone.
Parliamentary Under Secretary of State for Scotland Andrew Dunlop said:
Scotland is home to world class financial services companies. Those vibrant and successful businesses will be able to make the most of the economic opportunities following the vote by the UK to leave the European Union.

By taking a 'Team UK' approach to the negotiations to leave the EU, the UK government will ensure that our financial centres of excellence are able to thrive and prosper.
Wales minister, Guto Bebb, said:
South Wales is a major hub for financial and business services in the UK.

With 31 FTSE 100 companies having headquarters, major corporate centres or other operational functions in the area, the region's world class talent pool, excellent commuter links and competitively priced commercial properties, make it an ideal location to establish, nurture and grow a business.

Financial and insurance companies already employ around 21,000 people in South Wales and contribute over £2.2 billion to the UK economy.

Wales is home to many successful financial services companies and the UK government's North Wales growth deal and the South Wales financial centre of excellence, show Wales is open for business and an ideal location for global investors.

These numbers will continue to grow as we build an economy that works for everyone.
Economic Secretary to the Treasury, Simon Kirby, said:
From Edinburgh to Brighton, the regional financial hubs are providing low-cost, high-quality alternatives to London. These hubs play a crucial role in keeping the UK at the forefront of global financial services and the government want to make sure they continue to grow and reach their full potential.
Industry speakers included Hitachi Capital, Marsh UK & Ireland and BNYMellon, discussing the strengths and expertise in areas such as fintech and disruptive technologies where the cities outside London can become globally recognised centres of excellence.
Further Information
The 8 financial centres of excellence identified by the Financial Services Organisation (FSO) are: south coast, South West, South Wales, Yorkshire, North West, Midlands, Northern Ireland and Scotland.
The FSO at the Department for International Trade has specialists who can assist financial services businesses on areas including operations, fintech, insurance, professional services, wealth and asset management.
Its policy specialists can advise on issues including tax, immigration, property infrastructure and skills for UK companies looking to export and international investors looking to the UK.
For more information on opportunities for financial services exports and investment visit the FSO website or contact:
Financial Services Organisation
Published 31 October 2016
Last updated 1 November 2016
+ show all updates
Previous copy incorrectly referenced David Mundell as attending.
First published.