News story
UK receives Syrian chemicals for destruction
Industrial grade chemicals, intended by Syria for the production of chemical weapons, are being unloaded at Marchwood Port in Hampshire.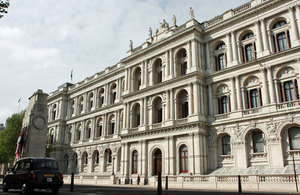 The chemicals will be destroyed at specialist chemical waste facilities in the UK.
A Government Spokesperson said:
The chemicals which are being delivered today are handled, transported and destroyed by British industry safely and on a routine basis. The plans for their destruction in the UK result from the extraordinary united effort of the international community in coming together, first to force Assad to give up his chemical stockpile, then, despite constant obstruction and delay from Damascus, to remove that stockpile from Syria for destruction overseas.

The UK can take pride in its contribution, offering specialised industrial facilities capable of safely destroying a significant proportion of the overall stockpile.
The operation has been overseen by the Organisation for the Prohibition of Chemical Weapons (OPCW) and the United Nations, and many nations, including Denmark, Norway, Italy, Finland, Germany, the United States, Russia and China, have or will play key roles.
The chemicals, packed in standard containers, are being delivered to Marchwood by the Danish ship Ark Futura. Inspectors from the OPCW are on hand to verify the delivery of the shipment, and experts from the chemical industry will now prepare the materials for onward transportation to the commercial plants where they will be destroyed.
The UK is accepting 150 tonnes of "B" precursors from the Syrian chemical stockpile, and 50 tonnes of the industrial chemicals hydrogen chloride and hydrogen fluoride, for destruction. The "B" chemicals are industrial grade chemicals, not chemical weapon agents. "B" precursors only become highly toxic when mixed with an "A" precursor to make a nerve agent. No "A" material is coming to the UK.
Further information
Read our previous stories about this issue on gov.uk:
UK contributes to the destruction of Syria's chemical stockpile
Removal of Syrian chemical weapons
HMS Montrose begins journey home
Follow the Foreign Office on twitter @foreignoffice
Follow the Foreign Office on facebook and Google+
Published 15 July 2014