World news story
UK reaffirms commitment to helping Kenyan mothers and children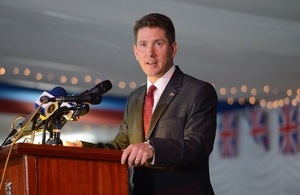 Today the British High Commissioner, Dr. Christian Turner, reaffirmed the UK's commitment to helping prevent newborn and maternal deaths in Kenya. The High Commissioner spoke at the launch of a UKaid funded study 'A Price too high to bear', which documents the financial costs of maternal mortality to poor households in rural Kenya, and the impact of a maternal death on the well-being of surviving children, families, and communities.
'I applaud the Kenyan government's leadership in addressing this critical issue. Not only have they made maternal health a priority, abolishing user fees in primary health facilities and providing free maternal care in all public health facilities, but the First Lady has made a personal commitment to raising awareness of maternal and child health issues by launching the Beyond Zero campaign. The UK is determined to continue to support the Government of Kenya and its partners to step up efforts on this important issue" said Dr Turner
"This latest research shows us the terrible shockwave of loss and pain that each maternal death causes for families and communities.' said Dr Turner. 'The UK's maternal health programme aims to address this by reducing maternal and neonatal deaths in Kenya by increasing access to quality health services. The programme will train health care workers across the country in important lifesaving skills. It will also support six counties to provide more skilled birth attendants and improve the quality of delivery care at birth. This project will work with communities to create better understanding of what they can expect from health services and increase their demand for good services. '
The UK is determined to support the efforts of the Government of Kenya and its partners to step up efforts on this important issue. The 5 year £75m (Kshs 10.8 billion) maternal and newborn health programme is an important part of DFID Kenya's overall contribution to the women and girls agenda. It has also been designed to ensure that in the area of maternal health no one is left behind in Kenya, closing the gaps between maternal and newborn death rates in different areas of the country. The programme targets resources on three main counties (Turkana, Bungoma, Homa Bay) facing particular challenges relating to poverty, poor infrastructure, high fertility and a nomadic population (Turkana county); and a high burden of HIV and service quality issues in Nyanza (Homa Bay county). The programme will also support service provision in three other additional counties (Nairobi, Kakamega and Garissa).
DFID's support through this programme will improve the coverage and quality of Maternal and Newborn Child Health (MNCH) services throughout Kenya and increase demand for these services through reducing current barriers to access. The proposed intervention is fully aligned with DFID's Framework for Results for Improving Reproductive, Maternal and Newborn Health.
Specific expected results by 2015 which will help to deliver DFID's Business Plan and DFID's Operational Plan for Kenya include:
• 9,000 health workers trained in 5 provinces. • 95,000 additional births attended by skilled birth attendant in 6 counties by 2018 (15,000 of which would be by 2015) • Proportion of births attended by a skilled attendant increased from 44% to 65% nationally; and from 18% to 43% in Homa Bay, 28% to 53% in Bungoma and 7% to 32% in Turkana. • Increase in number of facilities providing basic emergency obstetric and neonatal care to at least 16 and comprehensive emergency obstetric and neonatal care to at least 4 in each of 3 counties.
Earlier this week the High Commissioner hosted an event to showcase DFID's Private Sector Innovation Programme for Health (PSP4H); a £3.8 million (Kshs 546 million) 2-year programme which aims to bring together key public and private stakeholders in the Kenyan health sector. The programme will use a market systems approach to improve the for-profit health market in Kenya, so that poor people get better value for the money they spend on health. Reducing the amount that poor people spend on inappropriate healthcare, and/or increasing the value of what they get for it, would contribute towards improving quality health care and to progress towards the poverty-reduction MDGs.
Published 14 April 2014