Press release
UK provides schoolbooks for a generation of children in Lebanon
80,000 Syrian refugee children and over 220,000 Lebanese schoolchildren will receive a set of academic textbooks thanks to UK support.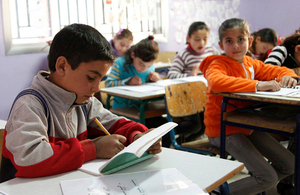 An entire generation of schoolchildren in Lebanon will get a boost to their education under a new UK initiative announced today by International Development Secretary Justine Greening during a visit to Lebanon.
The scheme will ensure that every child aged between 6 and 15 who attends state school in Lebanon has a set of textbooks covering key academic subjects. As well as 80,000 refugee children who have fled the fighting in Syria, this will include Lebanese children from host communities who might otherwise be at risk of losing out. Over 300,000 packs of books will be distributed in total.
The Lebanese public school system is under growing pressure to find spaces for Syrian refugee children, as schools are forced to run a shift system where a second school day starts after normal hours to educate twice as many children. Since 80,000 refugee pupils are currently enrolled in Lebanon, every fifth child in school is a refugee.
International Development Secretary Justine Greening said:
"While children in the UK are settling back in to school after their Christmas holidays, Syrian children are facing a third winter away not only from home but school as well. These are the children who will 1 day rebuild Syria and we cannot afford to let them become a lost generation.
"British assistance means every child at school in Lebanon will have their own set of books covering key subjects like maths and sciences. Lebanon has opened its doors to more than 860,000 of its neighbours and we want to help both Syrian and Lebanese children carry on going to school despite the huge strain on resources."
The new announcement comes the day before a major UN humanitarian pledging conference for Syria, which will take place in Kuwait tomorrow, 15 January. It aims to generate significant new funding pledges from the international community to help provide aid inside Syria and across the region.
Notes to Editors
Each pack will include textbooks covering science, literature, languages, mathematics and other core subjects, with each pack tailored to the needs of pupils in the relevant school year. These will be published in a mix of English, French and Arabic as per the Lebanese curriculum.
The UK will provide up to £4 million to enable the Lebanese government to purchase 307,000 textbook packs.
300,000 Lebanese children between the ages of 6 and 15 are already enrolled in school, along with 33,000 Syrian refugees, a further 7,000 Palestinian refugees from Syria and an additional 40,000 Syrian refugee children to be covered by the second shift system. In total, schools in Lebanon are attempting to accommodate an additional 80,000 children as a result of the Syria crisis.
The UK has committed £500 million to help those affected by the conflict in Syria. This is the UK's largest ever response to a humanitarian crisis. It is providing support including food, medical care, shelter and relief items for over a million people including those affected by the fighting in Syria and refugees in Lebanon, Jordan, Turkey and Iraq.
General media queries
Follow the DFID Media office on Twitter - @DFID_Press
Published 14 January 2014