Press release
UK provides essential healthcare for Syrian refugees
UK allocates £16 million to support healthcare services for Syrian refugees.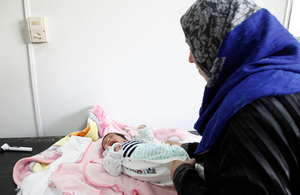 Britain will provide mobile clinics, healthcare and emergency surgery for up to 120,000 Syrian refugees caught up in the ongoing crisis, International Development Secretary Justine Greening has announced.
The new £16 million package will include specialist mental healthcare for people traumatised by the fighting, assistance for disabled refugees and mobile clinics to get aid to for families spread across Jordan and Lebanon.
International Development Secretary Justine Greening said:
"It is vital that the UK and the rest of the world continue to offer assistance to the millions of Syrians suffering the relentless misery and despair this conflict has inflicted on them. Britain has already provided more than £500 million for food, water, winter shelter and other basic support.
"This latest funding will provide mental health care for people and their families struggling to cope with trauma, mobile cIinics to get out to more refugees and crucial training for health workers to make sure there are the numbers that are needed"
Working with a range of partner organisations, the UK's £16 million package will include:
support for refugees with disabilities, injuries and chronic illnesses. Working with Handicap International, we will help people access the most basic of services, such as food and water
health care and emergency surgery for up to 120,000 refugees in Jordan and Lebanon
the training of healthcare workers to give refugees access to psychosocial support in Jordan and Lebanon and help prepare for possible cases of cholera
mobile clinics in Jordan and Lebanon to provide over 16,000 consultations per month to the most vulnerable refugees living in camps.
This medical provision is the latest allocation in the UK government's £500m response to the on-going humanitarian crisis in Syria. At the upcoming summit in Kuwait, Justine Greening will repeat her call for more countries to follow the UK's lead in supporting those affected and the neighbouring countries sheltering so many refugees.
Notes to Editors
The UN multilateral appeals – 1 for needs within Syria, and 1 for needs within the region – were published on 16 December for 2014. These cover the financing needs of the UN and of NGOs who are part of those appeals. They total $6.5bn for 2014, up from $5.2bn for 2013.

The UK has recently allocated nearly £90 million to partners working in Syria and the region to help hundreds of thousands of Syrians, especially children, cope with the onset of winter. The UK will provide food rations, winter tents, warm clothing and blankets, hygiene kits, heaters, fuel and insulation kits for displaced families living in collective shelters and abandoned or damaged buildings.

The UK government has committed £500 million to help those affected by the conflict. This is the UK's largest ever response to a humanitarian crisis. It will provide support including food, medical care, shelter and relief items for over a million people including those affected by the fighting in Syria and to refugees in Lebanon, Jordan, Turkey and Iraq. For more information, please visit: Syria crisis: Latest updates on UK aid.

Handicap International is an independent international aid organisation that works alongside people with disabilities and vulnerable populations in order to respond to their essential needs.
General media queries
Follow the DFID Media office on Twitter - @DFID_Press
Published 2 January 2014