UK Prime Minister David Cameron arrives in Pakistan: "A new chapter in our relationship"
British Prime Minister David Cameron arrived in Pakistan this morning on his first visit to Pakistan since becoming Prime Minister last May.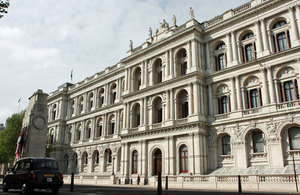 The Prime Minister will meet with Prime Minister Gilani, President Zardari and political leaders. The Prime Minister's visit will focus on education, trade and national security in his discussions with Pakistan's leaders.
At a speech to be given in Islamabad later this afternoon, he will say:
"I come here today to mark a new chapter in the relationship between our two countries. As President Zardari and I agreed when he visited Chequers last August, we want to deepen and enhance the unbreakable partnership between Pakistan and Britain. The unbreakable partnership must not just be between our two governments. It must be between our peoples too."
"The links between our countries go deep. As Prime Minister in London, ensuring what's best for Britain means that I have a direct interest in seeing Pakistan succeed".
Published 5 April 2011