World news story
UK offers to build smart future cities together with China at China Smart Cities International Expo
Graham Stuart, Minister for Investment at UK's Department for International Trade, leads delegation to Shenzhen.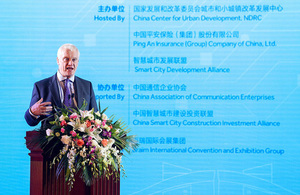 The Fourth China Smart City International Expo opens today (21 August) in China's innovation capital Shenzhen.
The UK, is 'Country of Honour', with Minister for Investment at the UK's Department for International Trade, Graham Stuart, leading a delegation of British companies, experts, civic leaders and officials to showcase the UK's smart city expertise and innovative technology.
China has an ambition to nurture 100 new smart cities by 2020, at the same time the UK's new modern Industrial Strategy published in November 2017 is driving forward the development of solutions to key urban challenges.
These include:
aging population
clean growth
intelligent mobility
big data/AI
China's National Development Reform Commission and the UK Department for International Trade committed to strengthening bilateral collaboration on the smart cities agenda, during Prime Minister Theresa May's visit to China in January 2018.
Opening the China Smart City International Expo, Minister for Investment at the UK Department for International Trade, Graham Stuart, said:
China has been the prime example of urban growth – expected to have 220 million-strong cities by 2030. Urbanisation isn't just a challenge. It's also a huge opportunity for any business and any country that can grasp those challenges.

I think it's very welcome that the UK has been chosen as the Country of Honour here, given our expertise. But it's also welcome because of the value we place on the Chinese relationship. Smart Cities are a truly international opportunity, and China and the UK are natural partners.
UK-China partnership on Smart Cities
UK-led smart city activities at the expo will celebrate and inspire new partnerships between the UK and China, and demonstrate the scale of the UK's commitment to working with China on smart city development.
The expo will enable participants from across China to:
hear from government experts from leading UK smart cities such as Manchester, Oxford and Milton Keynes
engage with British high-tech and smart city development companies including Utterberry, Microfocus, and ARM
meet a delegation of 7 SMEs led by the UK's smart cities innovation agency, the Future Cities Catapult, for business matching with Chinese partners
UK businesses and academics are already taking up opportunities to work with China on smart city innovation, including Oxford University, whose PEAK future cities programme is active in China. China's leading tech giant Huawei is working with Milton Keynes Council to design and build innovative ICT concepts for smart cities.
The UK is also attracting international investment in smart city initiatives. Amazon have invested £580 million in top tech businesses in the UK's leading smart city, Bristol, over the last 5 years.
DIT FinTech Awards 2018
China's Greater Bay Area Initiative offers a wealth of opportunity for UK businesses working in smart cities and technology innovation.
Today the UK's Department for International Trade (DIT) launched the DIT FinTech Awards 2018 for the Hong Kong and Greater Bay Area. The awards offer businesses from China and Hong Kong an exciting opportunity to explore the UK's world-leading FinTech eco-system and get connected to potential clients, peers and investors.
UK's strengths and opportunities
Currently, UK-Shenzhen trade stands at £4.7 billion every year. The UK is the biggest European investor in this city. In terms of potential further smart city collaboration with Shenzhen:
the UK has internationally recognised strengths in integrating city-wide systems around transport, energy and security networks; as well as in data and spatial analytics
the UK's excellent engineering and architectural firms have already used their urban planning and design expertise to create smart cities around the world
standards set by the British Standards Institute, on smart cities and the internet of things, are used worldwide
There are unprecedented opportunities for the UK and China to work together, to improve the sustainability of our cities and drive innovation. It's very clear that city living presents unique opportunities and challenges. People who live in them are healthier and wealthier. And smart cities - the melding we have now of that digital technology and data science to improve our urban environment - is what we will need to harness those opportunities by working with Chinese partners.
Our shared objective is to make people's lives easier and more enjoyable. Indeed, it was Shakespeare who said, 'What is the city but the people?' Together we can build smarter, better cities.
Published 21 August 2018