News story
UK Ministers welcome International Climate Security Conference in Seoul
Hugo Swire and Greg Barker today welcomed the hosting of an international conference on Climate Security by the Republic of Korea.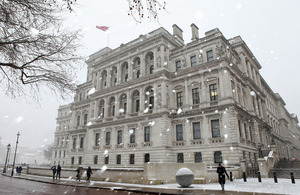 Foreign Office Minister Hugo Swire and Department of Energy and Climate Change Minister Greg Barker said:
We welcome the International Conference on Climate Security in the Asia-Pacific Region held in Seoul on 21 and 22 March 2013. We congratulate President Park Geun-hye on the leadership shown by her government in hosting this conference. This builds on Korea's significant recent achievements: winning the bid to host the Green Climate Fund in Songdo City; launching the Global Green Growth Institute as an international organisation; and hosting the UNFCCC pre-Conference of the Parties ministerial meeting in October last year.
Responding to climate change is at the forefront of the UK Government's agenda as part of our drive towards sustainable economic growth and global efforts to limit temperature rises to 2°C above pre-industrial levels. The conference in Seoul will help to advance the international political momentum needed to address the important issues at stake.
The event follows on from a successful conference hosted by the Foreign and Commonwealth Office in March 2012 and a previous conference in Berlin in 2011. Both the Foreign Secretary's Special Representative for Climate Change, Neil Morisetti, and the Foreign Office's Chief Scientific Adviser, Robin Grimes, will attend the conference.
Further Information
Read about the government's work taking international action to mitigate climate change
More information about Robin Grimes
More information about Neil Morisetti
Published 21 March 2013