News story
UK Ministers call for immediate and unconditional release of Aung San Suu Kyi
Foreign Office ministers today called for the immediate and unconditional release of pro-democracy leader Aung San Suu Kyi.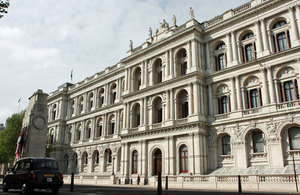 Pro-democracy leader Aung San Suu Kyi will be 65 on Saturday.
Aung Sun Suu Kyi has spent 14 of the last 20 years under house arrest in Burma for advocating democracy and respect for human rights in her country.
This week, the UN Working Group on Arbitrary Detention pronounced her detention as an unequivocal breach of international human rights law.
Responding to the view of UN experts, the Foreign Secretary said:
"Aung San Suu Kyi is 65 this Saturday, having spent 14 of the last 20 years under house arrest. Her continued detention, and that of more than 2,100 other political prisoners in Burma, contravenes international human rights law and casts a long shadow over planned elections in the country. I urge the military regime to release all political prisoners immediately and unconditionally, and respect the human rights of Burma's people."
Minister for South East Asia Jeremy Browne made the following statement:
"Aung San Suu Kyi has made clear her commitment to working with all parties to achieve national reconciliation. It is high time the regime released her and accepted her offer of dialogue.
In highlighting the plight of Aung San Suu Kyi, we should remember that she is just one of more than 2,100 political prisoners currently detained by the military authorities. Many are imprisoned far from the support of their families, in harsh conditions, for sentences of 65 years or longer.
This is more than a human tragedy - it is a tragic waste of talent, vision and leadership for a country that desperately needs all three.
The people of Burma have suffered enough. A genuine transition to civilian and accountable government is long overdue. I am committed to making sure the UK plays a part in helping them achieve this."
The FCO is also inviting people to post birthday messages for Aung San Suu Kyi on its Facebook wall: www.facebook.com/fcoburma. Our Embassy in Rangoon will present a collection of the messages to Aung San Suu Kyi's representatives.
Messages already on the FCO's Facebook wall include one from former political prisoner U Win Tin, who describes the ongoing struggle of pro-democracy campaigners in Burma. As a senior member of Aung San Suu Kyi's National League for Democracy, the 81-year-old spent 19 years in prison on charges that included disseminating anti-government propaganda.
Published 18 June 2010