Press release
UK Minister welcomes UN Plan of Action to Prevent Violent Extremism
The United Nations Secretary General presented his Plan of Action to Prevent Violent Extremism to the UN General Assembly in New York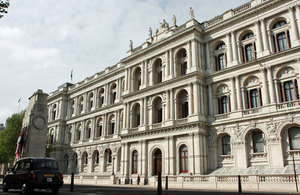 Commenting on the publication, Foreign Office Minister Baroness Anelay said:
The threat from violent extremism has never been greater and we applaud the UN Secretary General on this Plan of Action as a welcome and timely contribution.

The growth of groups like Daesh means the international community needs a strong, long term approach to tackle and prevent violent extremism. The UK works across communities to engage civil society and the private sector. In this way we can defeat not just the symptoms but the root causes of extremism.

Violent extremism is a generational challenge which we must tackle to work towards a more peaceful, stable and prosperous world. The comprehensive approach set out in the Plan of Action fits squarely with our obligations to implement the Sustainable Development Goals, since there can be no sustainable development in societies where extremism is allowed to take hold.

We are committed to help the UN come together with a coordinated, strategic approach, with this Plan of Action at its heart.

We therefore stand ready to work with our international partners to share experiences and to help all UN member states develop effective national action plans.
Further information
Published 15 January 2016