Press release
UK Minister welcomes start of Libya peace talks.
Tobias Ellwood MP, Minister for North Africa, welcomes UN-led peace talks and underlines need for ceasefire and start of political dialogue in Libya.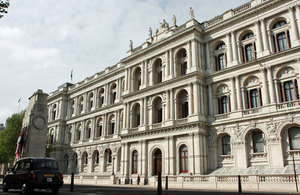 Commenting today, Tobias Ellwood said:
I welcome the start of UN-sponsored peace talks in Ghadames today. Libya faces serious political and security challenges which can only be addressed through an urgent ceasefire and political dialogue. I welcome the UN leadership in bringing the parties together, and the courage and conviction of the Libyans who have come to the negotiating table. This process will require time, patience and compromise from all sides. Those looking to undermine prospects for peace through violence and extremism should be in no doubt that the international community will not hesitate in taking action against them.
The Libyan revolution of 2011 was about giving the people of Libya the opportunity to decide their future without fear of violence or persecution. These talks are an important reminder that these aspirations continue to this day.
Further information
Follow Foreign Office Minister Tobias Ellwood on Twitter: @TobiasEllwoodMP.
Follow the Foreign Office on Twitter.
Follow the Foreign Office on Facebook & Google+.
Published 29 September 2014