UK Minister visits to mark the GREAT panda voyage
On 14-18 November, Jeremy Browne, Minister of State for the UK Foreign and Commonwealth Office, will visit four cities across China.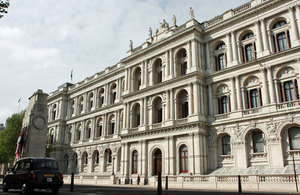 Minister of State for the UK Foreign and Commonwealth Office, Jeremy Browne
The purpose of the visit is to deepen UK-China trade and investment links, promote the recently launched GREAT Britain campaign and the London Olympics. One of the highlights of his trip will be a visit to see the two pandas at Bifengxia Yaan Panda Base before they begin their journey to Edinburgh Zoo. The two pandas, Tian Tian and Yang Guang, symbolise the strengthening relationship between the two countries.
Jeremy Browne's visit will begin in Beijing, where he is expected to call on the Ministry of Foreign Affairs Vice Minister Fu Ying. He will then attend a lunchtime event with the All China Youth Federation to develop relationships with China's future generation of policymakers. The Minister is also responsible for the UK's consular operations. He will visit the consular office in Beijing to meet the team and congratulate staff on their assistance to British nationals affected by the recent earthquake in Japan.
He will then move on to Chongqing where he will visit the site of ChangAn Automobile, a company with R&D investment in Nottingham. This southwest region of inland China is an important area for UK business engagement as part of the 'Partners for Growth' agenda. He is expected to have a high-level meeting with the Party Secretary Bo Xilai. These will be followed by a visit to Haifu, a company that has developed a new ultrasound therapy to treat cancers in collaboration with the Oxford Churchill and Radcliffe Hospitals.
Mr Browne will then visit the home of the two pandas which will shortly depart for the UK. He also plans to visit one of the neighbouring towns to gain a better appreciation of rural China.
Mr Browne will conclude his visit in Shanghai, where he is expected to meet the Vice Mayor and Head of CPPCC. They are likely to discuss the legacy of the 2010 Expo and how the UK can learn from Shanghai's experience in using next year's Olympic Games to enhance its image overseas. Mr Browne's last activity in China will be at Fudan University Law department where he will launch a film called Moot Court. The film is a reconstruction of a UK trial, featuring real British legal professionals, and will form part of a training package for Chinese lawyers and legal experts on the British legal system.
Jeremy Browne will also use this visit to discuss recent foreign policy developments and to promote the GREAT Britain campaign launched by the Prime Minister in September. The GREAT campaign showcases the variety of UK attractions that make it one of the best places in the world to visit, study, invest and do business.
Mr. Browne said, "This visit is a good opportunity to reinforce the UK's commitment to deepening our relationship with China. As 'Partners for Growth', we are continuing to build our bilateral trade and investment relationship, based on our complementary economic strengths. We are Europe's leading recipient of investment from China and, in the last three years, Chinese Companies have committed to over 50 R&D collaboration projects. The pandas, Tian Tian and Yang Guang, are a wonderful symbol of the increasing strength of our relationship."
Search the news archive
Published 15 November 2011