Press release
UK Minister visits Somalia to promote the rights of women and girls
Lynne Featherstone re-affirms strength of UK partnership with Somalia on visit to Mogadishu.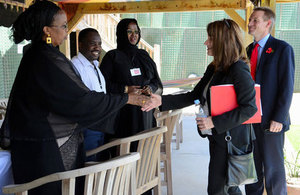 International Development Minister Lynne Featherstone has visited Mogadishu to re-affirm the strength of the UK's partnership with Somalia and to reinforce the importance of making sure women and girls are at the heart of the country's development.
Britain and Somalia have a common interest in tackling violence against women and girls (VAWG), especially female genital mutilation (FGM) and child, early and forced marriage (CEFM).
The visit was an opportunity to meet key members of the Somali Government responsible for looking after women's rights, namely Minister of Women and Human Rights Development Khadija Diriye, and Vice Minister of Health Ahmed Adan Ahmed.
Ms Featherstone welcomed the Federal Government of Somalia's increased activity to protect the rights of women and girls, in particular plans for a national gender policy, a legal framework to address FGM, VAWG and gender inequality, and a Sexual Offences Bill. She also applauded their attendance at the UK's Girl Summit this summer and their signature to the charter to end FGM and CEFM, and urged them to keep pushing forward progress on these issues.
During the visit Ms Featherstone chaired a meeting with the Gender Based Violence Working Group. Participants highlighted the need to improve prevention by providing security and safety, and also better access to, and support from, law enforcement. It was also clear that domestic violence affects many women every day.
Lynne Featherstone said:
Violence against women and girls is a problem right across the world, including in the UK, and we must all work together to end it everywhere. Somalia has made good progress by putting the rights of women and girls on the political agenda, but there is still a very long way to go.

After speaking with Somali women, it is clear much more needs to be done to prevent violence. And women also need better access to justice and more support from law enforcement agencies, including in cases of domestic violence and sexual violence unrelated to conflict.
The visit was also an opportunity to discuss Somalia's progress in implementing the New Deal – the development agreement that governs Somalia's relationship with donor countries. Meeting Minister of Finance Hussein Halane, Ms Featherstone welcomed progress on the New Deal and provided re-assurance of the UK's continued support. She pushed for progress on accountability and transparency in the management of aid in the country.
General media queries
Follow the DFID Media office on Twitter - @DFID_Press
Published 29 October 2014