World news story
UK mining technologies presented at Western Balkans Conference in Sarajevo
Sharing the latest UK skills, technologies and ideas for modern, efficient and environmentally friendly mining in the Western Balkans.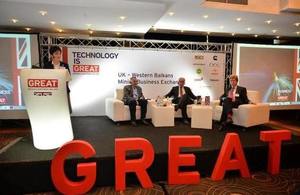 The British Embassy in Bosnia and Herzegovina hosted a regional business conference - "GREAT UK – Western Balkans Mining Business Conference", organised by its representatives from the Department for International Trade, in Sarajevo on 26 October. The conference brought together mining experts and companies from the UK, from Bosnia and Herzegovina and from across the Western Balkans region.
The Conference was designed to enable UK companies to understand better the export opportunities that exist in the Western Balkans mining sector, and to promote advanced British technology and services that can help and support countries in the Western Balkans to grow their economies and to meet their energy needs, but to do so in a way that is as efficient and as environmentally friendly way as possible.
Nine UK companies, all of them global leaders in their respective areas of expertise, attended the Conference, which was opened by the British Ambassador to Bosnia and Herzegovina, H.E. Mr Edward Ferguson. He was joined by the Minister of Energy, Industry and Mining in the Government of Republika Srpska, Minister Petar Djokic, and by the Assistant Minister for Mining in the Government of the Federation of Bosnia and Herzegovina, Mr Stjepan Mijac.
Ambassador Ferguson said:
UK products and services across the mining lifecycle are being exported around the world. We can offer expertise in areas including environmental assessment and planning, exploration, mine and processing design and construction. And London is the world's leading source of mining finance, which has helped to create services, delivery and equipment supply chains in accordance with international standards and best practice.
He also emphasised that many of the countries in the Western Balkans region have already embarked on significant investments to modernise their mining capacities, including Bosnia and Herzegovina. Ambassador Ferguson said:
In recent months we have seen more clearly defined investment plans and more centralised procurement, leading to greater scale and increased transparency in tenders. As a result, we have seen a marked increase in the interest of UK companies like those represented here today, which was one of the main reasons for organising today's conference.
Published 27 October 2016