News story
UK military supports Maltese security operation for 2015 Commonwealth meeting
Armed Forces are providing assistance to the Maltese security operation for the 2015 Commonwealth Heads of Government Meeting.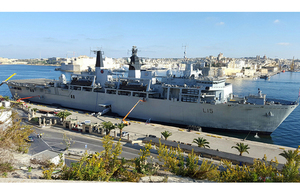 At the request of the Maltese Government, the UK is contributing defence assets to support Malta's security operation for the Commonwealth Heads of Government Meeting 2015.
The amphibious ship HMS Bulwark and Type 23 frigate HMS Somerset are in the region contributing to the defences, along with RAF Air Defence elements. While there are no known specific threats for the events, the measures have been taken as a sensible precaution.
Defence Secretary Michael Fallon said:
This is another demonstration of our Armed Forces global reach and the support we can offer our allies and friends on defence and security. It reflects the close relationship we have with Malta as a result of our enduring ties and shared interests.
Published 27 November 2015