Press release
UK military healthcare worker diagnosed with Ebola returning to UK for treatment
Four military healthcare workers identified via contact tracing for precautionary monitoring.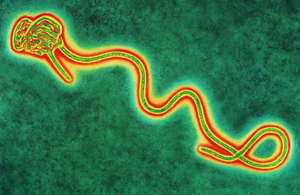 Public Health England (PHE), Department of Health, the Ministry of Defence and NHS England can confirm that the UK military healthcare worker with Ebola has now been medically evacuated from Sierra Leone. The individual is being transported in a specially equipped military plane and will be treated in a special high level isolation unit at the Royal Free Hospital in London.
Rapid tracing was undertaken in Sierra Leone to identify anyone that had been in recent close contact with the diagnosed individual.
This contact tracing identified 4 military healthcare workers requiring further assessment. On the same precautionary basis that has been adhered to previously, 2 healthcare workers are returning on the same military plane today and will be assessed at the Royal Free Hospital. They will then be monitored for any symptoms for the remainder of their incubation period, in line with standard procedures.
The 2 other individuals are currently being assessed in Sierra Leone, to inform a clinical decision regarding bringing them to the UK. If a decision is made to transport them to the UK for further assessment, they will be taken to Royal Victoria Infirmary in Newcastle, in line with Ebola response plans. None of the 4 individuals has been diagnosed with Ebola.
Professor Dame Sally Davies, Chief Medical Officer, said:
The UK has robust, well-developed and well-tested systems for managing Ebola virus disease. All appropriate infection control procedures have, and will continue to be, strictly followed to minimise any risk of transmission. UK hospitals have a proven record of dealing with imported infectious diseases.
Dr Jenny Harries, Ebola incident lead at PHE, said:
We can confirm that all the appropriate support is being offered to these individuals. We would like to emphasise that there is no risk to the general public's health and the overall risk to the UK continues to be very low. Our thoughts are with all the healthcare workers, and their families, affected at this time.
Mark Francois, Minister for the Armed Forces, said:
The wellbeing of our Service personnel remains our overriding priority. This includes the individual directly affected and their 4 colleagues, for whom precautionary measures are now being taken. I have seen for myself the courage and dedication of our personnel who are doing such a vital job in Sierra Leone. They are helping to protect not only those in West Africa from this unprecedented outbreak but also us at home by working to combat the spread of the virus. We are very proud of what our servicemen and women are doing and our thoughts are with their 5 colleagues and their families at this time.
Professor Sir Bruce Keogh, national medical director, NHS England said:
Since the beginning of the Ebola crisis, the NHS has put plans in place to treat a small number of cases in this country and is prepared for various scenarios. Patient, public and staff safety are paramount to this planning. In addition to the Royal Free Hospital, which has now treated 2 patients with Ebola, we have a network of dedicated infectious disease centres around the country, staffed by highly trained teams of doctors and nurses prepared and ready to accept potential Ebola cases, as well as individuals requiring future assessment.
Background
The individual who has tested positive for Ebola was exposed to the virus in a frontline care setting in Sierra Leone. The patient will arrive back in the UK on an Royal Air Force (RAF) flight today, Thursday 12 March, and will be transported to the Royal Free Hospital for treatment.
All next of kin have been informed. We would request confidentiality is respected at this time.
Decisions on immediate and ongoing care will be made by the clinical teams looking after the individuals.
There are between 600 to 700 MOD personnel currently deployed in Sierra Leone. Since deployment, MOD personnel have also trained over 4,000 local healthcare workers working in treatment centres and handed that task over to a contractor, the Institute of Migration (IOM). Despite there being stringent procedures and controls in place to safeguard UK service personnel, there is always a level of risk in deployments on operations of this type.
PHE is responsible for monitoring the health of individuals returning to the UK from Ebola affected countries. The purpose of PHE's returning worker scheme is to enable a consistent follow-up of workers on their return to the UK, to protect their health and that of the wider public. It operates in parallel to the screening arrangements that are in place for all travellers both on exit from the affected countries and on entry at ports in the UK.
PHE Press Office, infections
61 Colindale Avenue
London
NW9 5EQ
Published 12 March 2015