UK-Japan Strategic Dialogue meeting
Foreign Secretary William Hague met the Japanese Foreign Minister, Koichiro Gemba, for the first meeting of the new foreign policy "Strategic Dialogue" with Japan.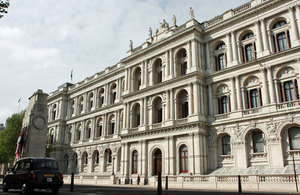 Speaking after the meeting, the Foreign Secretary said:
"I was delighted to welcome Koichiro Gemba to London for talks covering a wide range of foreign policy issues. Japan is one of our closest partners in Asia and so it is important that we have an annual 'Strategic Dialogue' to discuss key issues and agree joint action. Today's discussions centred on Syria, Iran, Afghanistan and our priorities for our upcoming Presidency of the G8 in 2013.
"Foreign Minister Gemba and I were also able to discuss our excellent bilateral relations and ways in which we can strengthen the trade and investment relationship between our two countries. Most notably, this will include greater civil nuclear cooperation - following the tragedy of the Great East Japan Earthquake and Tsunami; but also joint defence equipment collaboration. We also agreed that we would both work with European Partners to advance an EU-Japan Economic Partnership Agreement, that will bring benefits to millions of producers and consumers in both regions."
Published 19 October 2012