UK-Italy statement on counter terrorism co-operation
Statement issued by UK Foreign Secretary William Hague and his Italian counterpart Minister Giulio Terzi.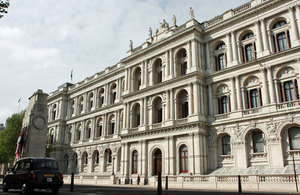 Foreign Minister Terzi and Foreign Secretary Hague discussed the continued threat facing the United Kingdom and Italy from terrorism, so tragically underlined by events in Nigeria two weeks ago. We confirmed our intention to intensify our already close co-operation and consultation in this area and agreed to establish a UK-Italy High Level Group on terrorism to oversee this work. This Group will meet at senior official level, and will look at the full range of our co-operation on counter-terrorism and related issues, including counter-kidnap, piracy, radicalisation, Yemen, Somalia and Libya.
In addition, we have agreed today to pursue the following areas of joint activity:
Following the tragic deaths of Chris McManus and Franco Lamolinara in Nigeria two weeks ago, we will support further work to build regional capacity to tackle the kidnap threat posed by terrorist groups, who operate across borders and target victims regardless of nationality. As a first step, the UK and Italy will consider how best to help strengthen Nigeria's capacity to tackle the threat posed by terrorism, including through support to regional law enforcement and security co-ordination.
Having been at the forefront of the international effort to protect the people of Libya during their struggle for change, the UK and Italy share a common desire to help build a stable and secure future for that country. We will offer further support to the Libyan authorities to prevent terrorists from taking advantage of the proliferation of arms and fighters in Libya and the wider region following the Libyan conflict. Identifying and understanding these threats will be essential in supporting Libya and its neighbours in their efforts to address them.
And in Yemen, we have agreed to explore joint co-operation in the policing and justice reform sector. As progress is made by the Government of Yemen in pushing Al Qaeda out of Yemen, it is important to ensure that civilian police fill the vacuum left behind. The UK and Italy have important experience in this area. The challenge is significant and we will work closely with our EU and other partners to support the Yemeni Government as they train police and improve justice capacity throughout the country.
Published 22 March 2012