News story
UK hosts first formal dialogue with Brazil
Foreign Secretary William Hague hosts Brazilian Minister for External Relations, Antonio de Aguiar Patriota, for the UK-Brazil High Level Strategic Dialogue.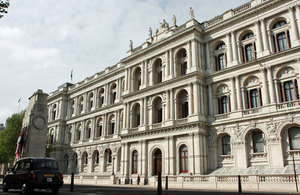 The talks will be held annually and have been set up to focus on foreign policy and international security issues, in recognition of Brazil's increasingly important role on the world stage. This year's dialogue is taking place at Carlton Gardens in Central London.
Commenting on the day's events, William Hague said:
"I am delighted to welcome Foreign Minister Patriota to London for the UK-Brazil Strategic Dialogue.
"Brazil and the UK have worked together consistently throughout 2012 on Olympic cooperation and I look forward to building on this. We share many interests and can work together on a huge range of issues.
"Today's meeting recognises the importance we in the UK attach to our relationship with Brazil. It demonstrates our mutual desire to work together in the UN Security Council on foreign policy, and it gives us many more areas for future cooperation. It is a dialogue that will be hugely valuable in strengthening our work together."
Mr Patriota said:
"As we meet today in London, we pursue a high-level strategic dialogue inaugurated last year in Brasília, built upon the multiple and solid convergences that bring us together. We share many values and interests but we also believe that the complexity of the world`s challenges require a diversity of views and the engagement of different players in order to attain sustainable solutions.
Today`s dialogue is a crucial and welcome occasion for us to strengthen our partnership in areas such as peace and security, sustainable development, food security, human rights, science, technology and innovation, and an ever more dynamic bilateral relationship. It is also an excellent opportunity to understand our specific points of view on the international agenda"
Discussions focused on recent events in the Middle East and North Africa, including a discussion on Iran and achieving a negotiated solution to the Iranian nuclear issue, future global challenges including the global economy, development issues, growth and prosperity and human rights and values. Ministers also exchanged views on Europe, South Atlantic and regional dynamics in South America.
UK and Brazil share concerns about the threat that terrorist groups operating in northern Mali pose to regional stability and international security. We therefore support the Government of Mali, and actions taken under the auspices of the UN and its Security Council.
Both Ministers agreed on the urgent need for progress on the Middle East peace process in the coming months. The UK and Brazil underscore the need for a major effort in 2013 to drive forward progress towards a negotiated two-state solution which is firmly in the interests of Israelis, Palestinians and the wider region. We also urge Palestinian Authority and the new Israeli government to engage seriously in negotiations without preconditions and to take no actions which make successful negotiations more difficult. In this context, we call on Israel to cease further settlements activity, which is both an obstacle to peace and in contravention of international law.
On international security issues, the UK and Brazil agreed to increase dialogue on mutual interests on disarmament and counter proliferation, in the run up to Non Proliferation Treaty in 2015. Ministers decided that political/military discussion should be held at the earliest opportunity to deepen discussion on cyber security, peacekeeping and other related issues. They confirmed their commitment to expanding a programme of exchange visits to deepen knowledge and understanding of approaches to key issues.
The Ministers also agreed it was important to drive forward discussions on trade policy issues and looked ahead to Joint Economic and Trade Commission (JETCO) talks between trade ministers due to be held in Brazil later this year. They also commented on the breadth of cooperation in this area including, Sao Paulo's Infrastructure Road show, an Innovation Roundtable and the UK's active participation in the Brazilian "Science without Borders" initiative. Demonstrating the close ties between the UK and Brazil on Education, this initiative has seen 1,582 Brazilian students come to study in the UK. By 2014, 10,000 students are expected to have come to the UK through the programme. As part of strengthening bilateral engagement and understanding, the Ministers welcomed greater cooperation between the Itamaraty and the Foreign and Commonwealth Office. The Foreign Secretary highlighted the Foreign and Commonwealth Office's work on Diplomatic Excellence and crisis management and explained how this affected policy making.
Published 4 February 2013