Press release
UK hosts AUKMIN 2016
Boris Johnson and Michael Fallon discuss strengthened UK-Australia relationship at AUKMIN 2016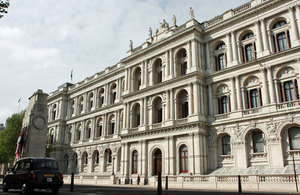 The strong bond between the UK and Australia was reaffirmed today as Foreign Secretary Boris Johnson and Defence Secretary Michael Fallon welcomed their Australian counterparts to the Royal Hospital in Chelsea for annual talks on foreign and security policy.
The Australia-UK Ministerial Meeting (AUKMIN) was the first since the EU Referendum and built on the positive talks earlier this week between Prime Ministers Theresa May and Malcolm Turnbull at the G20 Summit in China.
Australian Foreign Minister Julie Bishop and Defence Minister Marise Payne attended the meeting in the historic surroundings of the Royal Hospital, which has provided a home to brave war veterans and reflects more than a century of shared military history.
The ministers discussed approaches to issues including the global challenges of terrorism and violent extremism, how to defeat Daesh, the humanitarian situation in Syria and security challenges in the Asia Pacific region, as well as further cooperation in defence. They also discussed partnership opportunities following the referendum.
Foreign Secretary Boris Johnson said:
Australia is a long-standing and true friend of the UK, and we have had productive talks on how we tackle some of the challenges facing both of our great nations.

This has been a fantastic opportunity to reaffirm how important the UK-Australia relationship is to us and to celebrate our shared history, values and the strong links between our people.
Defence Secretary Michael Fallon said:
Britain and Australia have a rich history of close military partnership and our defence alliance is as strong as ever. From vital intelligence sharing to the fight against Daesh, we're working together to keep our people safe.
Further information
Published 9 September 2016