UK holiday company goes into administration
Sun 4 U Ltd went into administration on 12 August.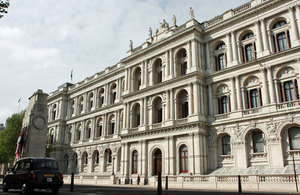 The FCO is in close touch with the Civil Aviation Authority (CAA) and the Association of British Travel Agents (ABTA). Consular staff in Spain and Turkey are in contact with travel industry representatives in resorts with Sun 4 U customers.
Sun 4 U customers currently abroad should contact ABTA's Claims Helpline on +44 1202 596 699. Sun 4 U customers in the UK should contact ABTA's Claims Helpline on 01202 596 699.
ABTA's advice for Sun 4 U customers is also displayed on its website.
Sun 4 U customers who booked a holiday package that included a flight will be covered by the Civil Aviation Authority's ATOL scheme. They will be able to check in for their flights home as normal. Their hotels and accommodation agents can take payment for customers' accommodation charges by submitting a claim to ATOL.
Further details on the ATOL scheme are available on the CAA website.
The CAA is operating a helpline. Customers abroad should call 00 44 161 444 5810; customers in the UK should call: 08445 717260.
Sun 4 U also traded under the following names: Algarve Breakaways; AlgarveBreakawyas.com; Barcelona Breakaways; BarcelonaBreakaways.com; Bargains from Beachsun; Bargains from Sun 4 U; Beach Sun Holidays; Blubirdtransfers.com; Blue Bird Transfers; Bonus Breakaways; Bonusbreakaways.com; Caribbean Breakaways; Coach Air; CoachAir.com; Costa Brava Breakaways; CostaBravaBreakaways.com; FlyBeachSun.co.uk; Flywithusdirect.com; GoldenSun4U; GodenSun4u.com; On the Case Holidays; Onthecaseholidays.co.uk; Onthecaseholidays.com; On the Case Travel; Onthecasetravel.co.uk; Onthecasetravel.com; Single Parent Holiday Savers; Ski4udirect.com; Sun4Uflight.co.uk; Sun4Uflights.com; Sun 4 U Travel; The Travel-Market.com.
Published 13 August 2010