Press release
UK gravely concerned by sentencing of Leyla and Arif Yunus in Azerbaijan
Foreign Office expresses grave concern over Azerbaijani human rights following the sentencing of civil society members Leyla and Arif Yunus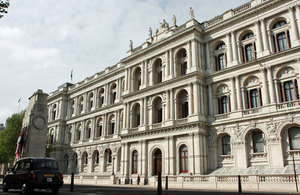 On 13 August, 2015 an Azerbaijani court has sentenced human rights defender Leyla Yunus and historian Arif Yunus to 8.5 years and 7 years respectively, following questionable allegations of tax evasion, illegal business activity, fraud and forgery.
Commenting on the judgment, Minister for Europe, David Lidington, said:
I am deeply troubled by the sentencing handed down to Leyla and Arif Yunus. A number of aspects of the conduct of the trial reinforced the impression that the verdict was politically motivated. These included restrictions on diplomats and other observers accessing the court room. The apparent deterioration of Leyla and Arif's health during the past year in pre-trial detention is also particularly worrying.

We regularly raise concerns over Azerbaijan's poor human rights record and will continue to pay close attention to developments in this area. We will also look for further opportunities to urge Azerbaijan to abide by its international commitments and respect the rule of law, while taking concrete steps to improve the human rights situation in the country.
This latest sentencing comes in the context of the ongoing imprisonment of other prominent members of Azerbaijani civil society. These include journalist Khadija Ismayilova, human rights lawyer Intigam Aliyev, and democracy campaigner Rasul Jafarov. Of additional concern are allegations that politician Ilgar Mammadov was subject to ill-treatment while in detention.
Further information
Published 13 August 2015