Press release
UK government funding for Dundee to London Stansted air link
Department for Transport signs first public service obligation to protect Dundee Airport to London Stansted Airport route.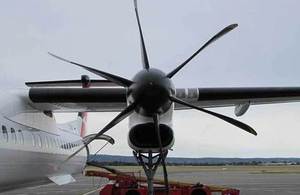 Air links between Dundee and London have been secured for the next 2 years with funding put in place today (6 June 2014) by the government. The public service obligation (PSO) agreed between the UK government and Dundee City Council guarantees £2.85 million to keep the route open, with flight times between the 2 airports at around an hour and a half.
The funding comes from the new Regional Air Connectivity fund announced by the Chief Secretary to the Treasury Danny Alexander at Spending Round 13.
LoganAir will operate the route under PSO from 1 July 2014. Two daily flights each way means business people and visitors will continue to be able to visit both destinations for day trips.
Danny Alexander said:
I'm delighted that the Regional Air Connectivity Fund I announced at the Spending Round 13 is delivering for Dundee. Dundee is a key economic hub in Scotland's thriving economy. This will ensure that its key industries remain connected to rest of the UK. It's good news for the people of Dundee and shows how we are better off together.
UK Aviation Minister Robert Goodwill said:
This funding from the Regional Air Connectivity fund, the first of its kind, is good news for Dundee and its economy, whether it's the world class research being carried out the University of Dundee or the city's financial services sector. Regional airports have a key role to play in our long term economic plan for the nation's future prosperity, and the government is committed to ensuring they have access to London and vice versa.
Ken Guild, leader of Dundee City Council said:
Flights to and from London continue to play an important role in Dundee's long term regeneration and our position in the country. With the service now secured through this PSO, the council and its partners will carry on encouraging as many people as possible to make use of the London link.
The funding marks the first ever UK government PSO, following Dundee City Council's application for support from the Regional Air Connectivity fund. The fund, announced in the 2013 Spending Round, can be used to maintain important regional air connections, where they are in danger of being lost. The government doubled the size of the fund to £20 million per year in the 2014 Budget.
In addition, the government aims to set up a second PSO agreement for the Newquay-London air link after the existing commercial carrier announced it would no longer operate the route from October 2014. The twice daily flights would attract business investment and tourists to Cornwall and offer an important additional travel option to the railway and roads.
Aviation and maritime media enquiries
Media enquiries 020 7944 3021
Out of hours media enquiries 020 7944 4292
Switchboard 0300 330 3000
Published 6 June 2014