UK, Germany and France call for President Assad to stand down
President Assad has "lost all legitimacy and can no longer claim to lead the country" said the leaders of the UK, France and Germany in a joint statement today.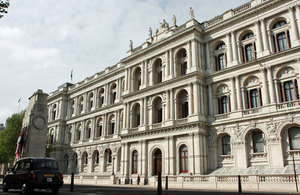 Prime Minister David Cameron, German Chancellor Angela Merkel and French President Nicolas Sarkozy said:
"The Syrian authorities have ignored the urgent appeals made over recent days by the United Nations Security Council, by numerous States in the region, the Gulf Cooperation Council and by the Secretaries-General of the League of Arab States and of the Organization of Islamic Cooperation. They continue to cruelly and violently repress their people and flatly refuse to fulfil their legitimate aspirations. They have ignored the voices of the Syrian people and continuously misled them and the international community with empty promises.
"France, Germany and the United Kingdom reiterate their utter condemnation of this bloody repression of peaceful and courageous demonstrators and the massive violations of human rights which President Assad and his authorities have been committing for months. We are actively supporting further strong EU sanctions against the regime of President Assad.
"We urge the Syrian regime to stop all violence immediately, to release all prisoners of conscience and to allow free access to the United Nations for an independent assessment of the situation.
"Our three countries believe that President Assad, who is resorting to brutal military force against his own people and who is responsible for the situation, has lost all legitimacy and can no longer claim to lead the country. We call on him to face the reality of the complete rejection of his regime by the Syrian people and to step aside in the best interests of Syria and the unity of its people.
"Violence in Syria must stop now. Like other Arab peoples during recent months, the Syrians demand that their rights to liberty, dignity and to choose freely their leaders be recognised. We will continue to work with the Syrian people, countries in the region and our international partners, with a central role for the United Nations, to support their demands and achieve a peaceful and democratic transition."
Published 18 August 2011