World news story
UK funds roundtable on financing energy efficiency
UK and Thailand working together to improve energy efficiency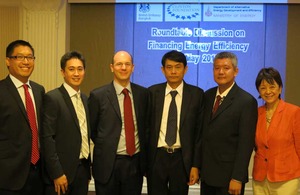 The British Embassy Bangkok, the Clinton Foundation and the Ministry of Energy have recently partnered to organise a roundtable forum focusing on financing energy efficiency that yields cost savings for property owners in Thailand. This is part of a one-year program implemented by the Clinton Foundation in both Thailand and the Philippines to encourage and scale up energy efficiency in existing buildings.
The event entitled "Roundtable Discussion on Financing Energy Efficiency" was funded by the UK Government's Southeast Asia Prosperity Fund 2012/2013. It gathered financial institutions, property owners, service providers, academics and technology manufacturers to discuss challenges, opportunities and solutions to encourage energy efficiency among property owners and to transform the market for energy efficient buildings.
The UK also funded an Investment Grade Audit (IGA) for the building of the Bureau of the Budget Office to provide a comprehensive analysis of current energy usage and potential energy savings.
Addressing the roundtable, Mr. Paul Bute, Deputy Head of Mission, British Embassy, said:
The energy efficiency market in the UK is creating jobs and helping protect the environment. Energy efficiency is one of the main reasons why the UK has been able to reduce emissions by about 25% on 1990 levels.
We welcome the Thai government's national campaign to improve energy efficiency in government buildings with a target to reduce energy consumption by 10% by 2013.
I am convinced that there is much the UK and Thailand can and should be doing together on energy efficiency. And I am also convinced that our discussions here, and the outputs of this project, can make a really positive contribution on this important issue
In Thailand, the rising surge in energy demand from buildings has resulted in heightened carbon emissions. Energy efficiency is a key factor in determining business competitiveness and sustainability for Thai building and facility owners.
In Bangkok, buildings represent approximately 34% of total greenhouse gas emissions and this figure will continue to grow with more development throughout Thailand. Most existing buildings are significantly less efficient than new buildings, and modifications can be made to improve efficiency typically by 20% to 40% using commonly accepted practices and widely available technologies. These buildings represent not only a significant opportunity to reduce energy consumption and greenhouse gas emissions but also a financial opportunity to reduce energy costs and save money.
Further information
The UK government works on Climate Change
Follow British Ambassador Mark Kent on twitter @KentBKK
Follow the British Embassy Bangkok on twitter @UKinThailand
Follow the British Embassy Bangkok on Facebook
Published 30 May 2013
Last updated 6 June 2013
+ show all updates
Added translation
First published.