World news story
UK funds 2nd year of Thailand's Solar PV Roadmap Initiative
Thailand has drafted a Solar PV Roadmap.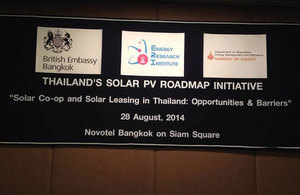 The British Embassy Bangkok is funding the Energy Research Institute (ERI) at Chulalongkorn University to develop a Solar PV Roadmap for Thailand. Now into its second year, the project is funded by the UK Government's Prosperity Fund Programme for an amount of £37,900.
A draft of the roadmap is now complete and was discussed with a group of 60 academics, researchers and business leaders at a workshop on 28 August. Input from that meeting, together with a wider consultation exercise, will feed into the final roadmap, which ERI aim to deliver to the Ministry of Energy in October.
One of the key elements of the roadmap is a study into the feasibility of developing leasing arrangements for rooftop solar panels in the residential sector, in collaboration with the Thai Ministry of Energy's Solar Innovation Group.
Published 2 September 2014