Press release
UK Foreign Secretary Boris Johnson holds talks with political leaders in Thailand
The UK Foreign Secretary Boris Johnson visited Bangkok on 12 February as part of his four day tour of Asia.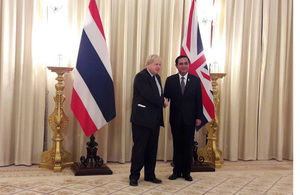 During his visit, the Foreign Secretary met Prime Minister Prayut Chan-o-cha and Foreign Minister Don Pramudwinai. The Foreign Secretary encouraged swift progress towards democratic elections. Mr Johnson updated Foreign Minister Don on what he had seen during his recent visit to Bangladesh and Burma, and discussed how to do more to address the Rohingya crisis. The wide-ranging discussions also covered co-operation on education, the digital economy, science and innovation, financial technology, and trade and investment, as well as further co-operation to tackle the Illegal Wildlife Trade. Prime Minister Chan-o-cha confirmed that Thailand would be represented at Ministerial level at the London Illegal Wildlife Trade conference this autumn.
Foreign Secretary Boris Johnson said:
The UK is a country that goes out into the world to build and develop relationships and it was a great pleasure to meet Prime Minister Prayut Chan-o-cha and Foreign Minister Don Pramudwinai.

Our relationship with Thailand spans a broad range of issues from bilateral trade and investment to regional security and the Illegal Wildlife Trade. I look forward to further strengthening the UK's relationship with Thailand in the future.
During his visit Mr Johnson also met Dr Surakiart, Chairman of the International Board to Rakhine Advisory Commission, viewed illegally trafficked ivory, pangolin scales and other animal parts seized by Thai customs, and visited a transport development to highlight opportunities for UK businesses in the infrastructure sector.
Songsang Jatipornsathien
Songsang.Jatupornsathien@fco.gov.uk
Further information
Published 12 February 2018