UK Foreign Office Minister visits Thailand ahead of London 2012 Olympics
Foreign Office Minister Jeremy Browne said that Thailand is a "natural partner for the UK" ahead of his two day visit to the country.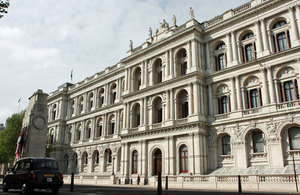 During the visit, he will meet Deputy Prime Minister, Pol. Capt. Chalerm Yubumrung, to discuss a number of important issues including prospects for national reconciliation in Thailand. They will discuss building on the already strong trade and people to people relations. As part of this the Minister will meet Thai business leaders to discuss further trade opportunities between the two countries.
A head of the visit the Foreign Office Minister said:
"Thailand is a natural partner for the UK and I am impressed by the active role Thailand has played in the advancing prosperity and cooperation in South East Asia. The UK is looking forward to welcoming Thailand's best Olympic and Paralympic athletes to London, and having the honour of HRH Princess Maha Chakri Sirindhorn representing HM the King of Thailand at the Olympic opening ceremony in July."
The Minister will meet a number of other political figures including Vice Foreign Minister Jullapong Nonsrichai and opposition MP Korn Chatikavanij as well as some of Thailand's young politicians and thought-leaders.
As Foreign Office Minister responsible for the London 2012 Olympics, Jeremy Browne will meet Taekwondo Association Chairman, Assistant Professor Pimol Srivikorn and Thai Taekwondo athletes at the training venue as they prepare to compete at London 2012.
This will be the Minister's third visit in his current Ministerial role and he will also visit Vietnam, Cambodia and Hong Kong while in South East Asia. The tour comes as part of an unprecedented season of high level British visits to the region. Prime Minister David Cameron, Deputy Prime Minister Nick Clegg and Foreign Secretary William Hague have visited eight different countries in the region in the past three months.
Published 2 July 2012