Press release
UK food and drink exports reach a record 150 countries worldwide
Yorkshire ice to Sweden and cheese to Madagascar are among the British food and drink products being exported around the globe.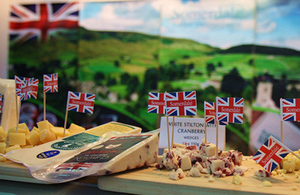 A record number of countries are now importing first class British food and drink into restaurants, supermarkets and bars across the world, including Yorkshire ice to Sweden and cheese to Madagascar, Environment Secretary Elizabeth Truss announced today.
New figures show the UK government has helped 2,500 food and drink businesses sell their produce abroad in the last 12 months – more firms than ever before - generating £300 million for the UK economy as part of the long-term economic plan.
With almost three new global markets opened up each week since 2010, British food and drink manufacturers are also selling wine to France, Yorkshire Tea to China and extra hot British chillies to Pakistan.
Not only are UK producers selling to the far ends of the earth, but increasing their exports has helped grow the UK's Food and Drink industry, which remains the country's biggest manufacturing sector, greater than cars and aerospace combined. The entire food chain contributes £97 billion a year to our economy and employs one in eight people.
On a visit to the Salon International de l'Agroalimentaire (SIAL) fair in Paris today, where more than 100 of the UK's premier food and drinks firms are exhibiting, Environment Secretary Elizabeth Truss said:
There's no doubt we're world leading when it comes to our food and drink - selling chillies to Pakistan, ice to Sweden and wine to France.

We've had huge success – smashing our target– and helping a record number of British food and drinks companies sell their delicious produce abroad, building a stronger economy for the UK.

I want to see more people buying British. That's why I have come to France to fly the flag for British food, encourage more trade and demonstrate to international companies how attractive it is to invest in the UK.
Today's announcement is the latest step in four years of record food and drink export growth. In 2013 exports of UK food and drink was worth £18.9 billion, an increase of £1.2 billion since 2010.
Trade Minister Lord Livingston said:
More and more countries are getting an appetite for Great British food.

Overseas markets are still hungry for UK food products. Any food and drink companies thinking of selling overseas should get in touch with UK Trade and Investment (UKTI). We can provide expert help on where to target your product, how to market it and make introductions to buyers.
The UK's most recent export breakthroughs also include beef to Niger and Singapore, lamb to the Dominican Republic and dairy to Mozambique.
One year on since launching the UK Food and Drink International Action Plan in October 2013, the government has smashed its targets in supporting more than 2,500 firms to export, exceeding its original target of 1,000 businesses by October 2015.
Further information
Food and Drink companies wanting to find out more about exporting abroad should visit UKTI or get in contact with UKTI on 020 7215 5000.

Launched in 2013 by Defra and UKTI, the UK Food and Drink International Action Plan sets out specific support for the dairy industry, beer, cider, wine and spirits exports; meat and seafood industries and UK food brands.

You can view Defra's social media export Vine
Published 20 October 2014