Press release
UK firms receive IP boost in South East Asia
Lord Younger, Minister for Intellectual Property announced the appointment of a new IP attaché for South East Asia.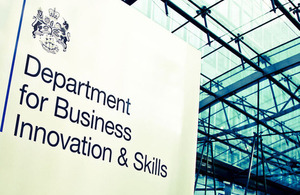 UK companies that need support overseas in emerging markets received a boost today as Lord Younger, Minister for Intellectual Property (IP), announced the appointment of a new IP attaché for South East Asia.
The appointment of Christabel Koh, who will provide support to UK British businesses in South East Asia, is the fourth IP attaché in a network that covers Brazil, China and India. Ms Koh will work with UK Trade & Investment and the Foreign and Commonwealth Office across the region to help British businesses make the most of business opportunities. Her position is central to the government's plans to improve trade relations, and to support IP and innovation-led businesses abroad.
Speaking at the Chartered Institute of Patent Attorneys' (CIPA) Congress, Lord Younger outlined how the existing IP attaché network has already demonstrated its value. From November to June this year, they contacted more than 2,000 businesses through their outreach work to raise awareness about IP issues in their markets. They also helped more than 170 businesses address their specific issues, thereby protecting IP-related assets worth more than £181 million.
Intellectual Property Minister Lord Younger said:
"British businesses are already taking advantage of opportunities in South East Asia with goods exports alone last year worth £8.9 billion to our economy, up 15% on 2011. The appointment of Christabel Koh to cover this vital market - expected to become the world's fourth largest by 2030 – is a clear indication of the government's keen focus on exports and support for UK companies in emerging markets with the increasing importance of IP.
"Ms Koh is a welcome appointment, bringing with her considerable experience for her new role, including several years covering international engagement at the Intellectual Property Office of Singapore and the IP Academy Singapore."
IP attaché, Christabel Koh said:
"I am delighted to join the Intellectual Property Office's (IPO) IP attaché network which already covers Brazil, China and India. Based in Singapore, my remit will be to advise British companies about the IP framework and environment in key South East Asian markets, to widen and deepen the IPO's dialogue on bilateral and multilateral issues with its local counterparts, and to keep abreast of IP-related developments across the region."
The 10 ASEAN countries currently have a combined population of about 600 million and a GDP similar to that of the UK. The Asia Development Bank predicts the middle class in ASEAN will rise from 24% of the total population in 2010 to 65% by 2030. This is a high growth region with significant potential for UK businesses looking to expand.
In his keynote speech to the CIPA Congress Lord Younger also detailed the ongoing strengthening of the UK's IP framework and high quality services that the IPO delivers. He made reference to the transformation of the old Patents County Court system into the new Intellectual Property Enterprise Court (IPEC), and the launch of the new fast track trade mark opposition process. Both measures are aimed at helping small businesses in particular, by streamlining current procedures and reducing costs.
CIPA President Roger Burt said:
"This latest addition to the UK's network of IP attachés is further evidence of how the IPO is staying at the forefront of international best practice in IP. British companies are increasingly finding that IP issues are global."
"Having IP specialists in key growth markets is a valuable asset that gives exporting British firms a real competitive advantage. The UK's IP office and IP court system are world leaders, which helps attract international investment as well as encouraging home-grown enterprise."
Notes to Editors
The Intellectual Property Office (IPO) is an Executive Agency of the Department for Business, Innovation and Skills (BIS) and is responsible for the national framework of Intellectual Property rights, comprising patents, designs, trade marks and copyright.

The IPO's role is to help manage an IP system that encourages innovation and creativity, balances the needs of consumers and users, promotes strong and competitive markets and is the foundation of the knowledge-based economy.

The IPO operates in a national and an international environment and its work is governed by national and international law, including various international treaties relating to Intellectual Property (IP) to which the United Kingdom is a party.

Christabel Koh has been appointed as the IPO's fourth IP attaché. Tom Duke, appointed in December 2011 is based in China, Anshika Jha appointed in May 2012 is based in India and Sheila Alves, appointed in August 2012 is based in Brazil.

Christabel Koh joins the IPO from the Intellectual Property Office of Singapore (IPOS) and the IP Academy Singapore, where she spent over 5 years, most recently serving as an Assistant Director of Special Projects. In these roles she focused on international cooperation, IP capacity building, and monitored IP developments in Singapore and the region. Her prior work experience included co-founding an online golfing portal to bridge the gap between customers and suppliers of information and merchandise. Her roles covered product development, marketing, how to enhance customers' online experience, and managing their IP. She has a Master of Science in Technopreneurship and Innovation.

ASEAN is an intergovernmental association. It was formed in 1967 by Malaysia, the Philippines, Singapore and Thailand. The association has since expanded to include Brunei, Burma, Cambodia, Indonesia, Laos and Vietnam.

For media queries, please contact Jayne Scott on +44 (0) 20 7215 5080. For emergency media calls out-of-hours please contact the duty press officer at the Department for Business, Innovation and Skills on +44 (0) 20 7215 3505.

The government's economic policy objective is to achieve 'strong, sustainable and balanced growth that is more evenly shared across the country and between industries'. It set 4 ambitions in the 'Plan for Growth', published at Budget 2011:
to create the most competitive tax system in the G20
to make the UK the best place in Europe to start, finance and grow a business
to encourage investment and exports as a route to a more balanced economy
to create a more educated workforce that is the most flexible in Europe
Work is underway across government to achieve these ambitions, including progress on more than 250 measures as part of the Growth Review. Developing an Industrial Strategy gives new impetus to this work by providing businesses, investors and the public with more clarity about the long-term direction in which the government wants the economy to travel.
Published 3 October 2013