Press release
UK expresses concerns about the situation in Cambodia
Foreign Office Minister Hugo Swire calls on political parties in Cambodia to resume dialogue.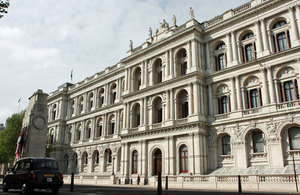 Commenting on recent events in Phnom Penh, Mr Swire said:
The UK is following the situation in Cambodia closely and we are deeply concerned by the disproportionate use of force by the security forces in Phnom Penh on 3 and 4 January. The government of Cambodia must respect the right to peaceful freedom of assembly and protestors must also exercise restraint. I call on the political parties to work together and resume dialogue as soon as possible in order to resolve the current political impasse and deliver long-term reforms in the interests of all Cambodians.
Further information
Follow Foreign Office Minister Hugo Swire on twitter @HugoSwire
Follow the Foreign Office on twitter @foreignoffice
Follow the Foreign Office on facebook and Google+
Published 10 January 2014