World news story
UK Experts Deliver Intelligence Research Training in Kosovo
This was published under the 2010 to 2015 Conservative and Liberal Democrat coalition government
Developing law enforcement capabilities to tackle organised crime in Kosovo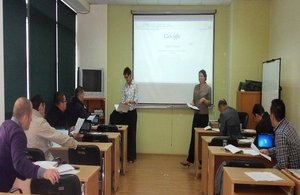 From 17-19 September 2013, the British Embassy in Pristina brought experts from Her Majesty's Revenue and Customs (HMRC) National Co-ordination Unit to Pristina to deliver specialised intelligence research training for members of Kosovo Customs and the newly-formed National Centre for Border Management.
The training is funded from the Foreign Office's Western Balkan Drugs and Crime fund. 18 Kosovo Customs and Police intelligence personnel will attend over the course of two training sessions. The aims of this training include supporting the development of greater inter-agency co-operation in Kosovo and integrated management of borders with neighbouring countries. The events re-enforce the UK's commitment to helping Kosovo develop and sustain its capacity to fight organised crime, including fiscal fraud and drugs trafficking. The first training course was opened by Ambassador Ian Cliff and Minister of Finance, Besim Beqaj, and the second training was opened by Deputy Minister of Internal Affairs, Saša Rašić.
In partnership with Kosovo institutions, work is under way to identify further opportunities for the UK to support Kosovo in the field of tackling organised crime. This focuses particularly on aspects of crime which significantly affect both Kosovo and the UK.
Follow the British Embassy in Kosovo website or Twitter, for regular updates about activities of the British Embassy in Kosovo
Document information
Published: 20 September 2013