News story
UK deploys Reaper to the Middle East
The Defence Secretary has announced that UK Reaper Remotely Piloted Aircraft Systems (RPAS) will be deployed in the efforts to combat ISIL.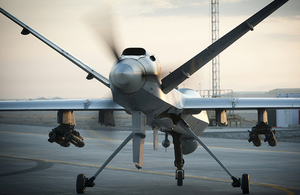 The deployment will see the Royal Air Force RPAS provide additional intelligence, surveillance and reconnaissance support to the Iraqi government and coalition allies in support of our national interests and ongoing efforts to combat ISIL. Reaper operations are expected to start shortly.
Since the granting of parliamentary approval last month the UK has conducted air strikes on multiple ISIL targets in northern Iraq, operating from RAF Akrotiri in Cyprus. The deployment of RPAS complements the existing surveillance assets already in the region.
Defence Secretary Michael Fallon said:
The surveillance capability of Reaper will see it provide vital situational awareness, making it an invaluable asset to the Iraqi Government and the coalition allies in helping counter the threat from ISIL and supporting our vital interests in the area.

If strike operations are required then Reaper has the ability to complement the sorties RAF Tornados have already completed.
The deployment is the first operational use of UK Reaper outside Afghanistan.
Reaper is the UK's only armed remotely-piloted aircraft. The policy for the use of unmanned aircraft is the same as that for manned aircraft, with the RAF pilots operating under strict UK Rules of Engagement.
Training Kurdish forces
The deployment of Reaper to the Middle East coincides with the conclusion of the first UK training programme for Kurdish forces in Northern Iraq.
Forty members of the Peshmerga have been instructed on the use of heavy machine guns gifted by the UK last month, during a week-long course run by personnel from 2nd Battalion The Yorkshire Regiment.
The training will allow the troops to pass on expertise to other Kurdish units.
For more information see ISIL: UK government response page on GOV.UK
Published 16 October 2014