News story
UK condemns regime harassment of Iranian blogger's family
Foreign Office calls for end to impunity of Security Forces in Iran following death in custody of Sattar Beheshti.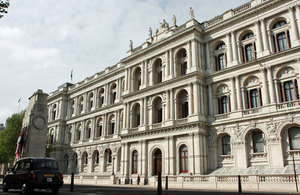 Sattar Beheshti, a young Iranian citizen, died in detention in early November. Mr Beheshti's only crime appears to have been using the internet to advocate the defence of human rights. Commenting on reports that Iranian security forces disrupted a family ceremony mourning his death, a Foreign Office Spokesperson said:
We are dismayed by the Iranian security forces' harassment of the family of blogger Sattar Beheshti during the mourning ceremony on 13th December to mark his death. Mr Beheshti died in suspicious circumstances while in custody. This is not the first time the family of a victim of the regime has received such treatment, which is completely unacceptable. Iran must respect the family's right to mourn their loss in peace, as well as make serious attempts to bring those responsible for Mr Beheshti's death to justice. The impunity enjoyed by agents of the state must end. We reiterate our condolences to Mr Beheshti's family.
Published 19 December 2012