Press release
UK concerned by Russian Government's decision to label the civil society organisation Memorial as a "Foreign Agent"
The Russian Government's enforcement of restrictive legislation continues to restrict vital civil society organisations and undermine human rights.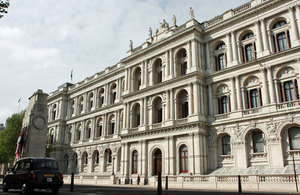 The so called "Foreign Agents" law was introduced by the Russian Government in 2012. It has the effect of depriving civil society organisations of vital funding and subjecting them to unreasonably burdensome reporting requirements and disproportionate sanctions, up to and including closure. Over 140 civil society organisations have been added to the Foreign Agents register to date. This includes, on 4 October, the international branch of Memorial, an organisation which has worked for years to preserve the memory of victims of persecution. Further information about the human rights environment in Russia can be found in the FCO's Human Rights Report.
A Foreign Office Spokesperson said:
The UK Government is deeply concerned by the addition of the international branch of Memorial to the "Foreign Agents" register in Russia. For years, Memorial's staff have worked tirelessly for truth and justice for the Russian people. Its work, particularly in researching the repression of the Soviet Union, is world renowned and widely respected.

The independent and equally respected polling agency, the Levada Centre, was similarly labelled a "Foreign Agent" by the Russian Ministry of Justice on 5 September.

These worrying developments are clear examples of the rapidly shrinking space for civil society in Russia. By imposing the label "Foreign Agent", the Russian Government is attempting to discredit these organisations and prevent them from carrying out activities that should be part of any democratic society.

The UK continues to call on the Russian authorities not to place civil society and human rights groups under increased pressure.

Civil society should be celebrated, not silenced.
Further information
Published 6 October 2016