News story
UK-Canada partnership gathering pace
Defence Secretary Sir Michael Fallon has emphasised Britain's strong and historic ties with Canada at the International Security Forum.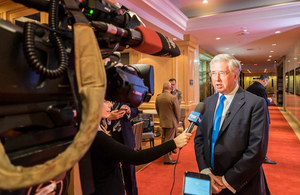 Speaking with ministerial counterparts in Halifax Sir Michael said Canada had been a part of every major military operation the UK had been involved in this century, from Afghanistan to Ukraine.
He said that UK forces have worked in partnership with Canadians in the Global Coalition against Daesh, with strikes and by helping train Iraqi forces tackling the terror group.
Sir Michael said the UK and Canada had stepped up to meet wider security challenges with contributions to NATO's Enhanced Forward Presence in the Baltic States. The UK will provide the framework battalion for Estonia, while Canada will deploy troops to Latvia. During his visit, the Defence Secretary also discussed the potential for UK and Canadian troops to train on the ground together while deployed to the Baltic, bonding our forces even more closely.
As well as praising the benefits of the British Army's long-standing training on Canada's prairies in Suffield and co-operation through the G7 and Commonwealth, Sir Michael said that the UK had benefited from £35bn of inward investment from Canada, largely in infrastructure and regeneration projects.
Reflecting the close relationship, the Defence Secretary's visit came just two months after the Canadian Defence Minister Harjit Sajjan visited the UK and met Sir Michael during the UN Peacekeeping Defence Ministerial. In their bi-lateral discussions in Halifax, the Ministers reviewed progress in their Enhanced Forward Presence planning, opportunities for defence industrial co-operation, progress in the C-Daesh campaign, and UK and Canadian support to Ukrainian Armed Forces.
Defence Secretary Sir Michael Fallon said:
Britain and Canada's relationship spans four centuries: forged under fire on Vimy Ridge and in the ice of the North-West passage.

Today, we face new threats to our common values, from terrorism to aggressive states and Canada and the UK must stand together again.

Now is the time to step up and strengthen our defence and industrial co-operation to secure our nations and our values in a dangerous world.
This close partnership also brings the potential for exports and jobs for the UK. The Royal Navy has announced the steel cut next summer on Type 26 frigates in Scotland and the UK welcomes the Royal Canadian Navy's interest in applications for bids for their own future warships, which are due to be built in Canada.
More widely, the Defence Secretary said the UK had discussed with Canada what more could be done in the field of peacekeeping, building upon the commitments we made at the London Peacekeeping Conference in September.
Published 18 November 2016