UK ban on modern day ivory sales
Plans announced to help bring an end to illegal elephant poaching and ivory trafficking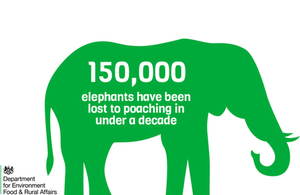 Environment Secretary Andrea Leadsom today announced plans for a ban on sales of modern day ivory – putting UK rules on ivory sales among the world's toughest.
It comes as the UK government prepares to back urgent global action to end elephant poaching, which has reached crisis levels in recent years. New action to tackle the illicit trade will be discussed at the upcoming conference of the Convention on International Trade in Endangered Species (CITES) in South Africa.
Global demand for ivory has seen almost 150,000 elephants lost to poaching in under a decade, leaving numbers down by almost a third.
Environment Secretary Andrea Leadsom said:
The UK has a strong record as a global leader in the fight against the illegal wildlife trade and I'm determined to do all we can to bring an end to poaching and ivory trafficking.

Elephants are some of our world's most iconic animals and it will take truly global action to stop the insidious criminals who selfishly prosper from the ivory trade.

This ban will send the message that the ivory trade is a thing of the past. I hope it increases pressure on other nations to implement bans and save our elephants before they disappear.
The announcement comes ahead of the start of the 17th meeting of the CITES conference in Johannesburg.
Environment Minister Thérèse Coffey, who will attend the conference, said:
Working with other governments, I want to see strong outcomes from this conference to protect our precious global wildlife, including elephants, lions and rhinos.

I hope the world takes note of the UK's decisive action at this important time.
The government will consult on plans for the ban early next year, seeking views from conservationists, traders and other relevant parties to ensure clear rules and guidance for those operating within the law, while cracking down on illegal sales.
Notes to editors:
Figures on elephant poaching taken from the Great African Elephant Census.
The ban will cover the sale of items containing ivory dated between 1947 and the present day. Trade in 'worked' items, such as works of art and ornaments dating from before 1947 (deemed 'antiques') will continue to be permitted.
The UK already has a total ban on trade in raw tusks, or 'unworked' ivory, of any age.
The government will consult with environmental groups, industry and other relevant parties to establish how and when a ban could be introduced, as well as any necessary exemptions, early next year.
The CITES CoP17 will take place in Johannesburg, South Africa from 24 September to 5 October 2016.
Published 21 September 2016