UK and South America continue to act on climate change
Foreign Minister for Latin America, Jeremy Browne, has spoken of the shared responsibility between the UK and Colombia to act on climate change for global prosperity and security.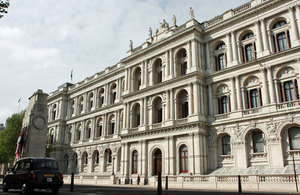 During his five day visit to the region the Minister discussed the UK and South America's shared challenges on climate change. He highlighted how climate change impacts on all aspects of life. 'Climate change acts as a threat multiplier - exacerbating social security problems and limiting individual prosperity and human rights.'
At his breakfast meeting with officials in Chile on 11 August 2010 he discussed the need to lower energy consumption and improve environmental standards domestically and work together internationally to push the climate change negotiations.
He explained about the opportunities for both UK and Colombian businesses to take advantage of the low carbon economy and commented that, 'they are the jobs of the future'. He also went on to discuss how the UK is an international hub for low carbon expertise and innovation on carbon trading, 'the UK can help organisations in Colombia to structure and finance low carbon projects effectively'.
The Minister was impressed at the amount of renewable electricity used in Colombia. To help renewable energy sectors he said certainty in government climate change policy is needed; 'it is essential that governments put in place policies which offer long term certainty to business who make those future low carbon investments.'
The trip highlighted how the UK and South America can continue to work together to act on climate change.
Published 12 August 2010