UK and Libya agreement on open government
The UK and Libya will work together to develop a modern and reliable communications infrastructure in Libya, spreading the practice of open government.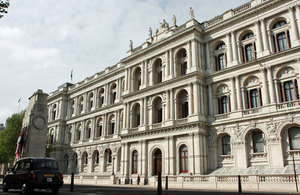 Full text of the Memorandum of Intentions on e-Libya signed by UK Minister Lord Green and the Libyan Minister of Communications:
The Transitional Government of Libya,
and
The Government of the United Kingdom
(hereinafter referred to collectively as the "Participants"),
Desiring to cooperate in support of the E-Libya initiative's goals of improving quality of life in Libya through technology; and catalyzing the development of a Libyan knowledge economy
Desiring, therefore, to cooperate and benefit from the warm and friendly relations between both governments, to leverage the extensive knowledge of the UK government in the following areas:
1- Information and Communication Technology (ICT) strategy.
2- Establishing a regulatory framework
3- Physical ICT infrastructure
4- Value-added ICT applications, including Open Government, e-Government, e-Commerce and e-Learning
Sharing a common goal of promoting open government and transparency in Libya, and recognizing the role E-Libya will play in the advancement of that goal, so that Libya may in future join the Open Government Partnership;
Intend as follows:
This Memorandum of Intentions is not legally binding and does not constitute an obligation of funds.

The Participants, based on the experience, technical expertise and best practices in the implementation of cooperation for the E-Libya Initiative, intend to conduct joint activities of technical cooperation, with a view to:
a. Identifying opportunities on mutually decided terms of enhanced investment opportunities in the country, responsive government activities, increased access to technology; and
b. Strengthening the infrastructure and technological innovation systems of Libya, by means of coordinated use of personal, technological and human resources.
Activities to be carried out may include:
a. Sending technical experts from the United Kingdom, and other governments and international private sector organizations to develop proposals, provide technical and strategic guidance, training, and education, as well as monitor projects and evaluate results;
b. Assisting in improving physical infrastructure capabilities, promoting affordable access to the internet, designing a formation of policies to govern the emerging telecommunications market; and
c. Other forms of cooperation mutually determined among the Participants.
The Participants intend to assign the planning and direction of the E-Libya initiative arising from this Memorandum of Intentions to the Libyan Ministry of Information and Communication Technology.

The Participants intend to cooperate towards giving appropriate publicity to the cooperation provided.
This Memorandum of Intentions is to be effective as of the date of its signature.
Signed at Lancaster House, London on 24 May 2012 in two original copies, in the English language.
FOR THE TRANSITIONAL GOVERNMENT OF LIBYA:
Minister of Communications and Information, Mr. Anwar Fituri
FOR THE GOVERNMENT OF THE UNITED KINGDOM:
Minister for Trade and Investment, Stephen Green
Published 24 May 2012