UK and Latin America: Partners for prosperity
Foreign Office Minister Jeremy Browne will visit Chile, Colombia and Peru to promote the work of the UK amongst its overseas partners.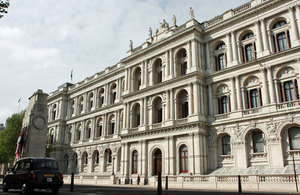 In Colombia and Chile he will focus particularly on how UK expertise can support infrastructure development, whereas in Peru discussions will look more closely at the openings available in the green transport sector. Both are good potential areas of opportunity for UK companies, who are seeing their presence grow in Latin America.
Alongside a range of athletes hoping to compete in London 2012 this summer, Mr Browne will also launch the GREAT campaign, highlighting UK expertise and where it can add value to the region's fast-expanding economies.
Mr Browne said:
"Latin America is a vibrant and diverse continent, full of opportunity. We have a wide range of interests there, from business to science, education and cultural ties. Chile, Colombia and Peru are important partners and my visits are intended to strengthen our relationships with them in all these areas.
"Following the launch of the GREAT campaign in Brazil, I am particularly pleased to be visiting the region again in the year of our Olympic and Paralympic Games. London's Games are a unique opportunity to bring our countries closer together and I look forward to seeing all our athletes compete for gold."
In Chile, Mr Browne will meet a range of Ministers including Foreign Minister Alfredo Moreno. He will visit the Chilean Olympic Committee to meet athletes competing in London 2012. He will also take part in high level discussions on improving education links between our countries.
In Colombia he will visit Bogota and Medellin. He will meet President Santos to discuss progress in the bilateral relationship since his visit to the UK in November. He will open an event on infrastructure development and meet a range of business leaders. The Minister will hold conversations on human rights and land restitution with a range of ministers and NGOs, as well as discussing education and culture issues. In Medellin he will open a new Mothercare store: another sign of UK firms' interest in Colombia as a business destination.
Finally he will visit Peru, where he will reaffirm the UK's commitment to working on political and business-related issues including counter-narcotics cooperation and climate change. He will meet President Humala to talk about security and trade, before raising the UK's Olympic profile at a London 2012 event in the capital city, Lima.
Published 12 March 2012