News story
UK and China sign MoUs on sport, libraries, fashion and tourism
The UK and China pledged to cooperate on a range of areas during the third People to People Dialogue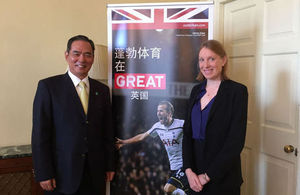 Today, John Whittingdale, Ed Vaizey and Tracey Crouch met with their Chinese counterparts in Greenwich to discuss ways both countries could cooperate on tourism, fashion, sport and libraries. This set of meetings is called the People to People Dialogue (P2P).
The P2P was co-chaired by Vice Premier Liu Yandong, for China, and Secretary of State for Health Jeremy Hunt for the UK. The first P2P Dialogue was hosted by the UK in 2012, and the second took place in Beijing in 2014.
During the P2P, DCMS Ministers signed the following MoUs with the Chinese Government:
Tourism: The UK will hold an annual dialogue on tourism exchange with the China National Tourism Administration and increase strategic co-operation on tourism through improving travel connections between the UK and China and facilitating relationships between the UK and Chinese travel trade.

Fashion: The Shanghai International Fashion Center and the British Fashion Council will agree exchange programmes and propose designers to participate in the respective fashion weeks. The SIFC and BFC will also facilitate introduction programmes for both British and Chinese businesses.

Libraries: The National Library of China and the British Library have identified multiple areas of potential future collaboration, including the BL collection of Shang dynasty oracle bones, an exchange programme for young librarians and cataloguers, and the digitisation of rare items such as the Yongle Dadian holdings in the BL Chinese collections.

Sport: The UK and China will establish the Tomorrow's Star programme which will include youth football training camps, exchange programmes for young football players from both countries, and coach and referee training.
Culture Secretary John Whittingdale said:
"Today's meetings with China show the wide range of opportunities for UK-Chinese cooperation. I'm delighted that we have been able to find so much common ground through sport, fashion, tourism and culture.
These collaborations will enrich our cultures and pave the way for stronger economic growth and trade. I look forward to working closely with China during the rest of this exciting year of UK-China Cultural Exchange."
Published 17 September 2015