News story
Two new Trustees for the Imperial War Museum
The Prime Minister has appointed Tim Marlow, and the Culture Secretary has appointed Paul Potts CBE, each for the four years commencing 1 March 2016.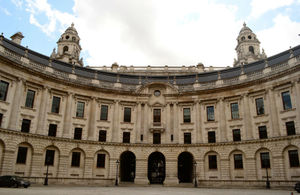 Biographical details
Tim Marlow
Tim has been Artistic Director at the Royal Academy of Arts since 2014. He was Director of Exhibitions at White Cube from 2003-2014. Before this he had been active in a number of roles including Head of Adult Education at Tate, Editor of Tate Magazine, Visiting Lecturer at Winchester School of Art, and Creative Director of Sculpture at Goodwood. He is currently a Trustee of Sadler's Wells Theatre and a Member of the Fine arts Faculty of the British School in Rome. He has published numerous catalogue essays as well as newspaper and magazine articles and reviews, and has chaired or participated in a variety of judging panels including the Royal Television Society Awards, the John Moores Painting Prize and the BBC Samuel Johnson Prize for Non-fiction. He has been an award-winning arts broadcaster on radio and television for the past twenty five years, and he continues to lecture widely.
Paul Potts CBE
Paul began his career as a reporter on the Sheffield Star in 1968 and worked for numerous regional and national newspapers over a thirty year period. He joined Press Association in 1995 as Editor-in-Chief and was appointed Group Chief Executive in 2000. He was also Chairman of Canada Newswire and MeteoGroup, then Europe's largest private weather company. Paul retired from PA Group in 2010. He is a Visiting Professor of Journalism at the University of Sheffield and a Non-executive Director of Channel 4 Television. Paul is currently a freelance media adviser and is a Member of the Government's Advisory Group on the First World War Centenary Programme. He was created Commander of the Order of the British Empire in 2009, for services to journalism.
These roles are unpaid. The new Trustees hold no other public appointments, and each has declared no political activity in the United Kingdom in the past 5 years.
Published 8 February 2016