Press release
Two men face charges in ongoing criminal cartel investigation
Two men appeared at Westminster Magistrates Court today to face a charge under section 188 of the Enterprise Act 2002, the criminal cartel offence.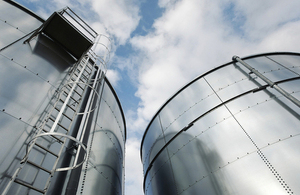 Clive Geoffrey Dean and Nicholas Simon Stringer were charged on 30 June 2014 as part of an on-going investigation by the Competition and Markets Authority (CMA).
Mr Dean and Mr Stringer have been charged with dishonestly agreeing with others to divide customers, fix prices and rig bids between 2004 and 2012 in respect of the supply in the UK of galvanised steel tanks for water storage. The alleged arrangements related to a number of businesses, including Franklin Hodge Industries Limited, Galglass Limited, Kondea Water Supplies Limited and CST Industries (UK) Limited. For more information, see the case page.
Peter Nigel Snee was charged earlier in the year and pleaded guilty to the same offence.
Reporting restrictions apply and the CMA is unable to publish further details at this stage.
The CMA is also conducting a related civil investigation into whether businesses have infringed the provisions of the Competition Act 1998.
Notes for editors
Under section 188 of the Enterprise Act 2002 it is a criminal offence for individuals dishonestly to agree to make or implement, or to cause to be made or implemented, arrangements which constitute certain types of cartel activity, namely price-fixing, limiting or preventing supply or production, market-sharing and bid-rigging. Individuals convicted of the cartel offence may be sentenced to up to 5 years imprisonment and/or an unlimited fine.
The Competition Act 1998 prohibits, among other matters, agreements and concerted practices that have the object or effect of preventing, restricting or distorting competition in the UK or a part of it and which may affect trade in the UK or a part of it. Companies found to have infringed the Act may be fined up to 10% of their annual world-wide turnover.
No assumption should be made at this stage that a criminal offence has been committed or that the Competition Act has been infringed.
Anyone who has information about a cartel is asked to call the CMA cartels hotline on 0203 738 6888 or email cartelshotline@cma.gsi.gov.uk
Under the CMA's leniency policy a business that has been involved in a cartel may - in certain defined circumstances - be granted immunity from penalties or a significant reduction in penalty in return for reporting certain categories of Competition Act 1998 infringements and assisting the CMA with its investigation. Individuals involved in cartel activity may also in certain defined circumstances be granted immunity from criminal prosecution for the cartel offence under the Enterprise Act 2002. The CMA also operates a rewards policy under which it may pay a financial reward of up to £100,000 in return for information which helps it to identify and take action against illegal cartels.
The CMA is the UK's primary competition and consumer authority. It is an independent non-ministerial government department with responsibility for carrying out investigations into mergers, markets and the regulated industries and enforcing competition and consumer law. From 1 April 2014 it took over the functions of the Competition Commission and the competition and certain consumer functions of the Office of Fair Trading, as amended by the Enterprise and Regulatory Reform Act 2013. For more information see the CMA's homepage.
The reporting restriction applicable in this case with respect to Mr Snee is an order under S.4(2) of the Contempt of Court Act 1980. The reporting restriction applicable in this case with respect to Mr Dean and Mr Stringer is under S.52A of the Crime and Disorder Act 1998.
Enquiries should be directed to Rory Taylor on 020 3738 6798 or Siobhan Allen on 020 3738 6460 or Michael Rosen on 020 7738 6133.
Published 11 July 2014