Press release
Try something new this summer... go fishing!
If you or your children have ever wanted to try fishing then now's your chance – enjoy the outdoors and learn a new skill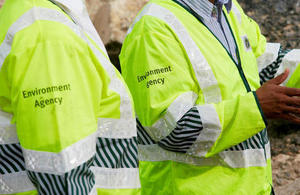 The Environment Agency is encouraging would-be anglers, young and old, to give fishing a go as National Fishing Month gets underway. Between 18 July and 31 August events will be taking place all over the UK to inspire a new generation of people to take-up the sport.
There are hundreds of events taking place across the country including children's fishing matches, family fun days and free taster days.
South West events kick-off tomorrow (Saturday) with a learn to fish day at Harpers Ponds, Exeter Canel, Exeter, Devon, beginning at 10am to 4pm, where there will be free coaching, loan of equipment and bait.
Mike Holland, from the Environment Agency, said:
Fishing is a great way to relax and let go of the stresses of the week. If you fancy trying it out or would like to get your family involved, why not go along to our Learn to fish for free event tomorrow.
National Fishing Month begins with a special offer to take a family member or friend fishing between 18 July and 27 July 2014. Cut out the FREE rod licence voucher (worth £3.75) published in magazines and newspapers, scan the QR code or download a voucher from Take a friend fishing
National Fishing Month is organised by the Angling Trades Association and is supported by the Environment Agency, the Angling Trust, the Professional Anglers Association and the Game Angling Instructors Association.
Martin Williams from the Environment Agency said:
Fishing is an excellent way to enjoy the outdoors, has great health, welfare and educational benefits and it is important to our economy. National Fishing Month is a great way to get started. And if fishing is for you then buying an annual rod fishing licence is easy. While under 12s go free, a trout and coarse fishing licence remains at £5 for 12 to 16 year olds and £27 for a full annual licence.
Money raised from rod licence sales is reinvested in the environment, including a whole range of projects to improve facilities for anglers, protect stocks from illegal fishing, plus fish restocking, invasive species eradication, and working with partners to encourage people to take-up fishing for the first time.
There is more information and a full list of events on the National Fishing Month website
Buying a rod licence online from the Post Office website saves time and administration costs, which means more of the income can be spent on improving fish stocks and fishing.
More on rod licences and how to buy one here: https://www.gov.uk/buy-a-uk-fishing-rod-licence or direct from the post office
ENDS
Published 22 July 2014