Troubled Families programme expanded to help younger children
Expansion of the Troubled Families programme to help vulnerable younger children from struggling homes get a better chance in life.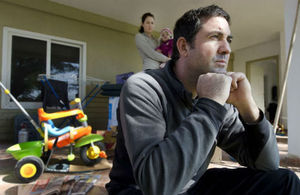 Communities Secretary Eric Pickles today (19 August 2014) announced details of an expansion of the government's Troubled Families programme, to help vulnerable younger children from struggling homes to get a better chance in life.
Work will begin this year in 51 of the best performing areas, ahead of a national 5 year programme from 2015 to help more troubled families who cost the taxpayer tens of thousands of pounds per year without intervention. Recent research shows that troubled families that have been worked with so far have an average of 9 serious problems such as truancy, crime, anti-social behaviour, worklessness and domestic violence.
As well as expanding from working with school-age children to those under 5, the wider programme will also have a particular focus on improving poor health, which new data published today highlights is a particular problem in troubled families, with 71% having a physical health problem and 46% a mental health concern.
The scheme builds on the success of the current programme run by councils, which new figures show is now helping over 110,000 of the most troubled families in England. Of these nearly 53,000 have had their lives turned around thanks to the intensive and practical approach, which works with the whole family on all of its problems.
While retaining its focus on reducing truancy, crime and anti-social behaviour, the expanded programme will apply this approach to a larger group of families with a wider set of problems including domestic violence, debt and children at risk of being taken into care.
And the programme will continue to prioritise getting adults into work, with the Department for Work and Pensions providing 300 specialist troubled families employment advisers who will also work with young people at risk of becoming unemployed.
Secretary of State for Communities and Local Government Eric Pickles said:
The Troubled Families programme has been a brilliant partnership between the government and councils, changing the way services are run, saving taxpayers money and turning around the lives of some of the hardest to help in the country, with kids back in school, youth crime and anti-social behaviour cut and adults better able to work. Building on this momentum, we are now able to help even more families and deal with even more problems and I am delighted that that work will now begin in the next few months.
Chief Secretary to the Treasury Danny Alexander said:
The Troubled Families programme is an excellent example of how re-thinking public services can have a huge positive impact on the lives of families across the UK. We extended the scheme at Spending Round 2013 and I'm pleased that families will be able to benefit from this even earlier than planned. The programme is a radical example of how, by spending a bit more in certain areas, we can save much more in others and by doing so create a stronger economy and a fairer society.
Secretary of State for Work and Pensions Iain Duncan Smith said:
There are thousands of individuals and families England living troubled lives blighted by crime, worklessness, and truancy. Worklessness can be a particular issue for some of these families and helping them get and keep a job can be vital in turning their lives around, bringing improved structure and stability with increased aspirations and confidence. Work can also enable parents to act as role models for their children, as children growing up in workless households are more likely to experience worklessness themselves. Jobcentre Plus advisers will be working with families to offer more targeted support to those who have been failed by the system and where no-one is working or there is a history of worklessness across generations.
Head of the government's Troubled Families programme Louise Casey CB said:
Families with an average of 9 different serious problems need help that gets in through the front door of their home and to the heart of what is really going on in their lives. The Troubled Families programme has been able to do that by taking a 'tough love' approach and dealing with the whole family and all of its problems. This has been the start of a revolution in the way that we work with our most challenging families and which we need to accelerate in the years ahead.
Further information
The Understanding Troubled Families report, based on independently produced research, shows that families within the current Troubled Families programme have an average of 9 serious problems.
See additional data on the health problems suffered by troubled families.
View more information on progress within the current Troubled Families programme, which runs from 2012 to 2015.
At the Spending Review last year it was announced that the Troubled Families programme would be expanded to work with 400,000 more families from 2015 to 2020, with £200 million funding for 2015 to 2016. The Budget in March 2014 announced that work with up to 40,000 of these families would begin in this financial year.
To be included in the expanded Troubled Families programme, a family will have to be referred by specialist agencies as having 2 of the 6 following problems:
parents and children involved in crime or anti-social behaviour
children who have not been attending school regularly
children who need help
adults out of work or at risk of financial exclusion and young people at risk of worklessness
families affected by domestic violence and abuse
parents and children with a range of health problems
Working with existing troubled families teams in councils, the 300 employment advisers will give intensive support to whole families and for the first time track the progress made to get them into jobs. The practical support will include CV writing, job interview skills and highlight training opportunities and job vacancies in the area. They will also put families in contact with local employers. All of this is about demonstrating that there are opportunities for everyone to get into work.
The full list of high-performing local authorities who will begin work with up to 40,000 additional families this year is:
Barking and Dagenham
Barnet
Bath and North East Somerset
Blackpool
Bradford
Bristol
Bromley
Calderdale
Derbyshire
Dudley
Durham
Gateshead
Greater Manchester (Bolton, Bury, Manchester, Oldham, Rochdale, Salford, Stockport, Tameside, Trafford, Wigan)
Greenwich
Haringey
Hartlepool
Havering
Knowsley
Lambeth
Leeds
Leicestershire
Liverpool
Merton
Middlesbrough
Newcastle upon Tyne
North Somerset
North Yorkshire
Oxfordshire
Plymouth
Poole
Redbridge
Redcar and Cleveland
Richmond upon Thames
Sheffield
Southampton
South Gloucestershire
Surrey
Wakefield
Wandsworth
Warwickshire
West Berkshire
West Sussex
Office address and general enquiries
2 Marsham Street
London
SW1P 4DF
Contact form https://forms.communit...
General enquiries: please use this number if you are a member of the public 030 3444 0000
If your enquiry is related to COVID-19 please check our guidance page first before you contact us - https://www.gov.uk/guidance/coronavirus-covid-19-guidance-for-local-government.

If you still need to contact us please use the contact form above to get in touch, because of coronavirus (COVID-19). If you send it by post it will not receive a reply within normal timescale.
Published 19 August 2014