Travel advice for European football matches next week
Chelsea, Rangers and Spurs are playing in Europe next week. Check our travel advice for fans if you're going to the matches.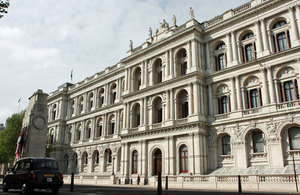 On 7 December, Rangers play Bursaspor and Tottenham play FC Twente in the Europa Champions League. Chelsea play Marseille on 8 December.
You can find information and advice for fans going to the matches on our travelling football fans page, and general information on travel to Turkey, Netherlands and France in our travel advice by country.
Transport services across Europe are being affected by severe weather, with flights subject to delays and cancellations. You should check directly with your airline or travel operator for the latest information before travelling.
Remember:
You don't need a visa to enter the Netherlands or France but your passport must be valid for the duration of your stay.
You need to buy a 90 day visit visa at your point of entry to Turkey and your passport should be valid for 6 months.
The European Health Insurance Card (EHIC) is not accepted in Turkey.

You should carry photo ID with you at all times.

Take out some travel insurance and get a European Health Insurance Card - even if you're only going for one night, if you get into difficulties it could save you a lot of money!
Published 3 December 2010